Originating in Asia, the non-surgical nose thread lifting procedure is called a "lunchtime nose job" or a string rhinoplasty. Many of my Orlando patients ask about the procedure, so let's look at string rhinoplasty to determine what it is and if it's right for you.
Having cosmetic surgery on your nose is a personal decision best discussed with you and your plastic surgeon. There are benefits to nose surgery that are both cosmetically appealing and physically or medically necessary including: 
Restoring breathing function

Correcting injury

Correcting an excessively wide, long, crooked, or short nose

Reducing the appearance of a nose hump

Improving the shape of the nose
What is String Rhinoplasty?
String rhinoplasty, sometimes called nose thread lifts or thread rhinoplasty, has grown in popularity recently as a non-surgical alternative to rhinoplasty. The procedure literally ties a string around the end of the nose and around the back of the head to raise the tip of the nose. Or, as an alternative, a barbed thread is used to achieve the same effect. A similar procedure is being used today as an alternative to a surgical facelift to lift sagging skin. 
According to an article in the International Fellowship in Advanced Aesthetic Science (IFAAS), string rhinoplasty for the nose was developed as an alternative to another non-surgical intervention, nose fillers. Fillers were effective in some cases to raise the bridge of the nose or further define it, however, this technique can have some serious complications if done incorrectly, including infection and blindness in the patient. 
String rhinoplasty became popular in Korea, known there as "Hiko," originating from the words "high" and "ko" (nose). The high nose procedure was developed to elevate the tip of the nose just slightly to further define Asian facial features by using polydioxanone (PDO) thread.
Edward J. Gross, M.D., a double board-certified facial plastic surgeon in Orlando and founder of Primera Plastic Surgery, suggests a non-surgical rhinoplasty procedure, such as a string rhinoplasty or a thread rhinoplasty has no long-term benefit for the patient and could lead to serious complications. I answer the question, "Does a string rhinoplasty really work?" in a related blog post.
"A thread lift rhinoplasty is a minor surgical procedure prone to many complications. If you're really looking to change the shape of your nose look for a board-certified facial plastic and reconstructive surgeon," says Dr. Gross. 
One study in the Journal of Cosmetic Surgery suggested, "Because it is a minimally invasive procedure, operators tend to neglect a simple but important initial step, which is sterility."
There are a few long-term follow-up studies on patients who have had the string rhinoplasties, and the conclusion is generally the same. While there is an immediate effect of heightening the nose, patients do not receive a long-term benefit. 
Many patients must have follow-up corrective surgery or other non-invasive treatments such as fillers or BOTOX® even after their string rhinoplasty.  
Will a String Rhinoplasty Help or Benefit Me?
Some patients turn to string rhinoplasty because they are afraid of surgery or because they are looking for a fast or less expensive option to improve their looks quickly. The procedure takes about an hour and afterward, you can drive home or even go back to work with minimal swelling, but there is one big problem: The string rhinoplasty procedure is not permanent. 
The process uses bio-absorbable threads that typically break down between one and two years after the procedure is complete. If you repeat the procedure at nine months, it may last longer or become permanent, depending on the stimulation of collagen in the nose.
 In 2009, a long-term study of the effects of the thread-lift procedures was released and the news was grim. The authors concluded, "Thread-lifts don't produce lasting results." 
Is a String Rhinoplasty Better Than Surgical Rhinoplasty?
The answer is a resounding "no" to this question. SkinMag says, "Rhinoplasty is still the gold standard in nose augmentation and under good hands, risks are low, and the downtime is only one week."
Dr. Gross agrees, stating, "String theory is not a viable option to change the appearance of the nose either as a child, teenager, or adult. In fact, this may actually cause some injury or damage to the nose so I would not recommend it."
Primera Plastic Surgery for Safe, Effective Rhinoplasty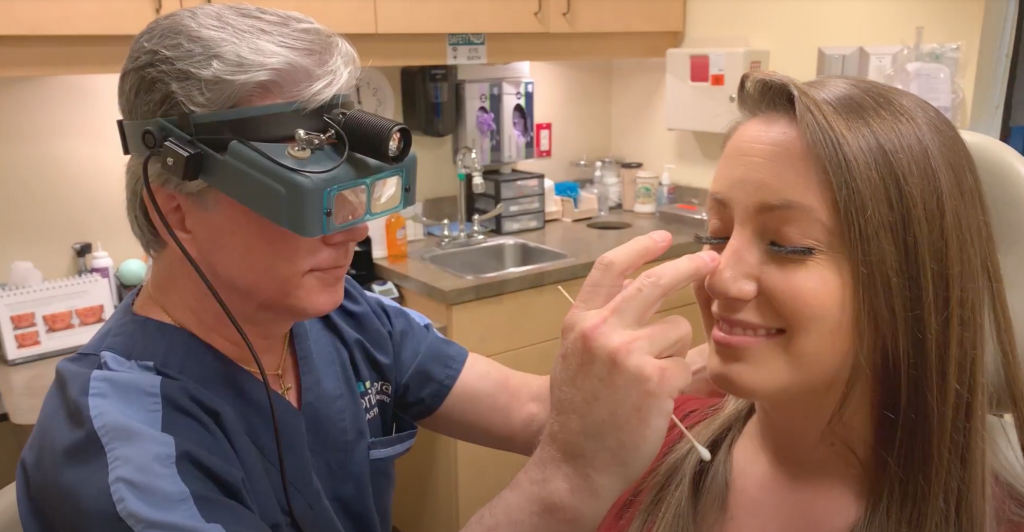 Now that you understand the risks associated with string rhinoplasty, let's discuss safe, effective rhinoplasty to help you achieve your cosmetic and health goals. 
Patients visit Primera Plastic Surgery to undergo surgical rhinoplasty for two primary reasons:
Nasal obstruction can contribute to sleep apnea, disturb sleep, contribute to snoring, and even inhibit exercise.

Cosmetic changes such as refining the nose tip, reducing a hump, or correcting an asymmetric nose.
Rhinoplasty can strengthen your ability to breathe while also correcting cosmetic concerns. This surgical procedure is completed under general anesthetic, usually on an outpatient basis. While the procedure usually takes an hour or two, the results can be dramatic and should last a lifetime, unlike string rhinoplasty. 
 According to the American Society of Plastic Surgeons, approximately 220,000 rhinoplasties are performed annually in this country. The American Academy of Cosmetic Surgery reports: 
"Rhinoplasty is usually a safe procedure with infrequent complications. When performed by a qualified cosmetic surgeon, this popular procedure can bring significant improvement in the appearance of the nose. This procedure is often one of the most gratifying procedures performed."
 To see the dramatic results of rhinoplasty, you can visit our before and after photo gallery to see real Primera Plastic Surgery patients and the dramatic results Dr. Gross and his team of experts can provide.
If you're unhappy with the shape of your nose, or if you're experiencing difficulty breathing freely, snoring or experiencing other health issues, we invite you to talk with our team and schedule a consultation today.