Neck Lift
Board-certified plastic surgeon Dr. Edward J. Gross performs neck lift procedures for men and women who want to define their jawlines, address submental fullness, and lift and smooth sagging skin on the neck. Whether due to heredity, the aging process, or a combination of both, lack of definition in the neck can obscure the jawline and inhibit a sleek, sculpted appearance. Today's sophisticated surgical neck rejuvenation techniques produce natural-looking and long-lasting solutions to these concerns.
Are you interested in a submentoplasty or neck lift procedure with Dr. Gross? Please request a consultation online or call Primera Plastic Surgery at (407) 333-3040.
What Does a Neck Lift Achieve?
A neck lift is essentially a combination of a mini facelift and submentoplasty, both of which can also be performed on their own. Neck lifts combine the muscle and skin tightening of submentoplasty with the jawline rejuvenation of the mini facelift for a more comprehensive correction of double chin and neck sagging issues.
What Happens During a Neck Lift?
During a neck lift procedure, Dr. Gross tightens and adjusts the muscles and underlying tissues of the neck and chin through incisions hidden along natural creases on the neck and around the ears. The result is a more contoured, youthful neck and jawline.
How Much Does a Neck Lift Cost?
In the Orlando area, neck lift costs range from $12,485 to $14,500 (NOT including anesthesia or facility fees). Dr. Gross is proud to offer financing through CareCredit®.
Submentoplasty
What Is Submentoplasty?
Pioneered in the 1990s, this more limited version of a neck lift is based on manipulating the deeper tissue layers of the neck, as opposed to simply pulling the skin with threads, or removing fat with liposuction or KYBELLA® injections. Dr. Gross recommends this cosmetic procedure to his patients who don't need a facelift, but wish to address a sagging neck, a poorly defined jawline, or a full upper neck area.
Who Is a Candidate for Submentoplasty?
Adults, sometimes young adults, may be unhappy with a weak chin profile or sagging of the upper neck area. This often occurs when patients are in their 30s, 40s, and 50s. Much of this neck drooping is a result of the aging process along with hereditary factors that run in families. Good candidates for submentoplasty have minimal jowling and sagging of the face and cheeks, but have drooping or bulging under the chin, especially when looking down.
In youth, the platysma muscle, which is the fan-shaped muscle underneath the skin of the neck, supports the upper and mid-neck areas as a firm fibromuscular sling. However, as we age, and with gravitational pull, the muscle can become weak and unable to support the upper neck and jawline. There may also be hereditary thickening of the subplatysmal musculature (floor of mouth), which causes unsightly neck bulging. Correcting this requires an open approach submentoplasty procedure with the incision hidden in a horizontal crease under the chin.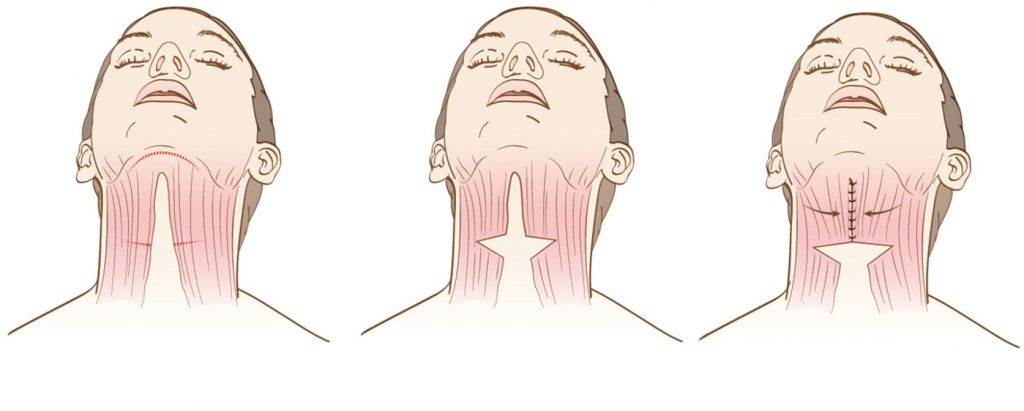 What Happens During a Submentoplasty?
During this procedure, Dr. Gross separates the platysma muscle from the skin and visualizes the subplatysmal musculature and fat. Often, there is subplatysmal fat and hypertrophy of these muscles which must be trimmed to achieve a sharp angle. He then identifies the 2 edges of the platysma and trims excess, redundant, or loose muscle. Undermining is then performed to allow for midline platysma tightening, and then suturing is done vertically (in the midline) with a heavy suture. This suture dissolves in about 4 to 6 weeks as the tissues mend and heal with a strong fibromuscular support. Any excess skin under the chin is trimmed before the incision is closed.
This procedure provides excellent foundational support for lifting and tightening the neck and avoids incisions around the ears. It is a short, outpatient procedure under general anesthesia, taking 1.5 to 2 hours of operating time. Extensive surgical training, a detailed understanding of neck anatomy, and years of experience allow Dr. Gross to create excellent results and achieve high patient satisfaction rates. He often performs chin implant and buccal fat removal in combination with submentoplasty for optimal results.
A chin strap is typically worn for 2 days after surgery, and patients can return to work in about a week.
How Much Does Submentoplasty Cost?
Near Orlando, at Dr. Gross' practice, the cost for the submentoplasty procedure can vary per patient based on multiple factors. The cost ranges from $4,600.00 to $5,750.00 (NOT including anesthesia or facility Fees). This procedure can also be financed through CareCredit.

Take the Next Step
If you would like to learn more about submentoplasty or neck lift procedures near Orlando, please request a consultation online or call Primera Plastic Surgery at (407) 333-3040.
Back to Top