Primera Plastic Surgery
1035 Primera Boulevard
Lake Mary, FL 32746

Phone: (407) 333-3040
Fax: (407) 333-3496

Mon–Fri: 9 a.m.–5 p.m.
Sat: 9 a.m.–3 p.m. (Med Spa only)

Buccal Fat Removal
Men and women who are otherwise in great physical shape can have unwanted fat deposits in the face that may not reflect the maturity or healthy vitality they feel within. People who are bothered by chubby or "hamster" cheeks know that facial fat is often unrelated to body fat. In fact, fat that accumulates in the cheeks, called buccal fat, often has a genetic component, making it resistant to moderate weight loss. Double board-certified facial plastic surgeon Dr. Edward Gross is pleased to offer surgical buccal fat removal at his metro Orlando practice as a minimal-downtime procedure that can yield significant changes in a person's profile.
If you're considering buccal fat removal with Dr. Gross, request a consultation today, or call our office at (407) 333-3040.
Leading the Way in Patient Satisfaction
No matter where you prefer to do your research, you'll find plenty of 5-star reviews for Primera Plastic Surgery. Dr. Gross and his team strive for complete patient satisfaction, and they'll go above and beyond to ensure you're happy with every element of your experience.
Learn More
Proven Techniques, Outstanding Results
Buccal fat enlargement, or hypertrophy, gives the face a round, childish, cheeky appearance. Many people have the condition as a family trait and are dismayed to learn that it doesn't typically respond to moderate weight loss and exercise. Each area of buccal fat is well-defined and typically about the size of a walnut or ping pong ball. This fat is located between the Masseter muscle, the major muscle that aids in chewing, and the cheek. When enlarged, the buccal fat causes swelling and fullness in the lower face and cheeks.
With 2 board certifications and a practice focused solely on facial rejuvenation, Dr. Gross is uniquely qualified to remove buccal fat and reshape the face. Specialized training and experience are required to perform this procedure and produce effective results, and Dr. Gross is one of few surgeons with the necessary background.
Although many patients opt to have the procedure on its own, others choose to undergo it in conjunction with chin implant surgery, neck liposuction, or even rhinoplasty for a complete improvement of the facial contours. Dr. Gross uses the latest techniques and takes a conservative approach to ensure little scarring, natural-looking results, and a quick, comfortable recuperation.

Edward J. Gross, M.D.
Double Board-Certified Facial Plastic Surgeon
With 24 years in practice, Dr. Gross' quality of care and results have earned the confidence and referrals of doctors throughout the region. His emphasis on patient education helps the men and women he treats feel comfortable and supported during their treatment.
Meet Dr. Gross
Request My Consultation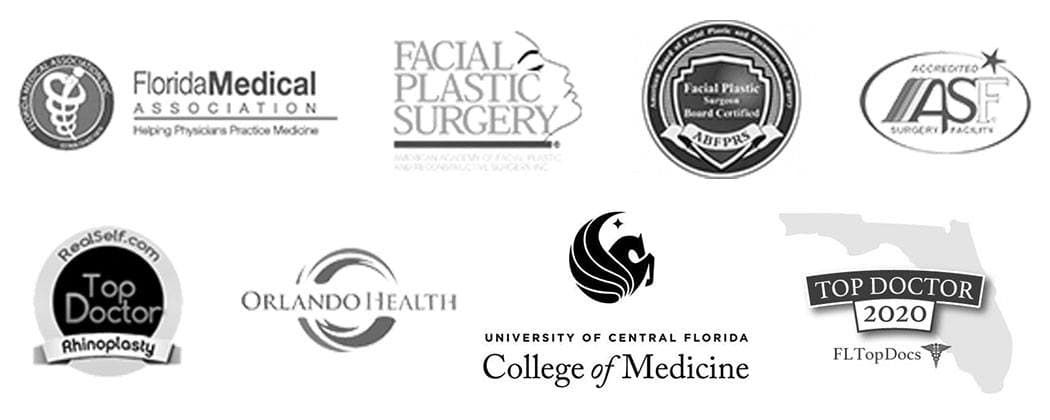 Buccal Fat Removal With a Facial Plastic Surgery Specialist
During your consultation with Dr. Gross, you work together to develop your desired results. He asks you many questions about your lifestyle and medical history and talks to you about the ultimate outcome you can expect. He uses computer imaging to help you visualize your anticipated results. You may also discuss alternative treatment options that may be better matched for you, such as facial liposuction.
Dr. Gross performs buccal fat removal, sometimes called cheek contouring or reduction, as an outpatient procedure at Orlando-area Primera Surgery Center. The surgery typically requires a light general anesthetic and lasts for about 1 hour.
Once you are fully anesthetized, Dr. Gross makes a small incision inside of your mouth, ensuring scars are completely invisible. Rather than using liposuction, Dr. Gross excises the fat directly using very small instruments. Typically, he removes about 1½ grams of fat from each patient — just enough to create an age-appropriate, chiseled visage. After a short period of observation, you're able to return home.

Computer Imaging
See Your Results Before Surgery
Our practice is among the few that use computer imaging to show potential results. With the help of this technology, Dr. Gross can reliably tailor a surgical treatment plan for the unique needs of each patient.
Learn More
Buccal Fat Removal Cost
In the Orlando area, the cost for buccal fat removal by Dr. Gross varies per patient depending on whether it is combined with other procedures, as well as a number of other factors. The cost is $4,750 (NOT including Anesthesia or Facility fees). Dr. Gross is proud to offer financing through CareCredit® for qualified patients.
A Smooth Recovery
The length of your recuperation can vary depending on the specifics of your surgery, but most buccal fat removal patients are back to work and most other normal activities within 2 to 3 days. Initially, swelling may make it difficult to see your results. As swelling gradually dissipates, your new, defined profile will develop. After surgery, you may find it more comfortable to keep your head elevated as much as possible in order to reduce swelling. Dr. Gross will advise you on when you can return to more vigorous activities, including working out.
Dr. Gross uses dissolvable sutures during buccal fat removal procedures, so there's no need to have stitches removed after surgery. During your follow-up appointment, Dr. Gross will examine your cheeks and ensure you're healing on schedule.
The fat removed during this type of procedure won't return, but it's still important to practice healthy habits in order to avoid weight fluctuations that could alter the shape of your face. Dr. Gross will help you understand the type of results you can expect and give you more detailed instructions on how to maintain your new profile.
"Both men and women pursue buccal fat removal because it gives their faces a chiseled, more mature look that they can enjoy for years."
– Dr. Gross
Take the Next Step
To learn more about Buccal Fat Removal from Dr. Gross, please request a consultation online, or call (407) 333-3040.
Back to Top