Primera Plastic Surgery
1035 Primera Boulevard
Lake Mary, FL 32746

Phone: (407) 333-3040
Fax: (407) 333-3496

Mon–Fri: 9 a.m.–5 p.m.
Sat: 9 a.m.–3 p.m. (Med Spa only)

Rhinoplasty
Rhinoplasty is a surgical procedure that reshapes and can improve the function of the nose. This procedure is commonly referred to as a nose job. As the premier rhinoplasty specialist in Orlando, double board-certified facial plastic surgeon Dr. Edward Gross has earned a reputation for his talent in correcting cosmetic concerns, post-traumatic injuries, and breathing difficulties through this delicate procedure.
Dr. Gross is renowned for his expertise in nose surgery. Numerous physicians, including some of the area's most respected plastic surgeons, regularly refer rhinoplasty patients to Dr. Gross for second opinions, revisions, or challenging cases.
Dr. Gross is a double board-certified facial plastic surgeon who provides individualized treatment to create balanced, natural results with rhinoplasty. Request a consultation today or call our office at (407) 333-3040.
Proven Techniques, Outstanding Results
Dr. Gross' background in reconstructive facial surgery and additional board certification in otolaryngology (ENT) make him uniquely qualified to perform rhinoplasty. He achieves a number of goals with this procedure, including:
Correcting an excessively long, short, crooked or wide nose
Restoring breathing function
Reducing the appearance of a hump
Elevating, lifting, shrinking or shortening the nasal tip
Improving the shape of the nose with cartilage grafts or nasal implants
Narrowing the nostrils
Dr. Gross routinely performs osteotomies to reset the nasal bones and bring in the sidewalls to narrow the nasal bridge. He performs tip plasty to refine, lift, and shorten the tip of the nose and is an expert in this area.
Edward J. Gross, M.D.
Double Board-Certified Facial Plastic Surgeon
With 24 years in practice, Dr. Gross' quality of care and results have earned the confidence and referrals of doctors throughout the region. His emphasis on patient education helps the men and women he treats feel comfortable and supported during their treatment.
Meet Dr. Gross
Request My Consultation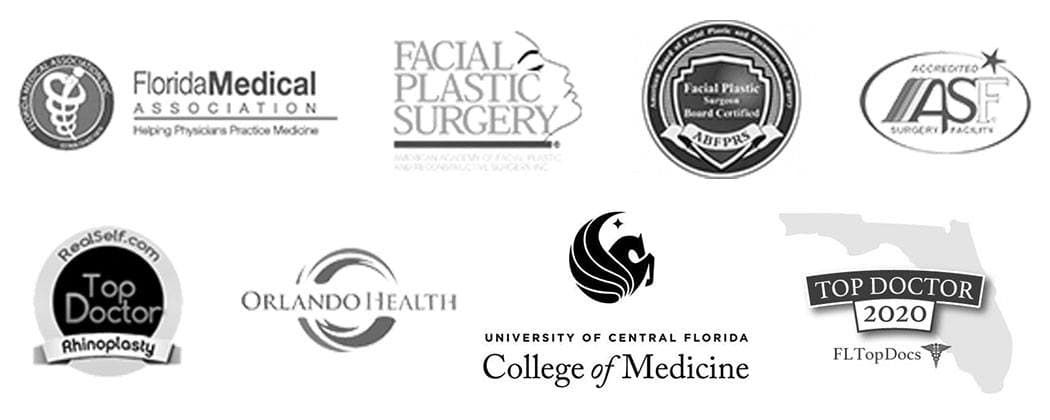 Rhinoplasty With a Facial Plastic Surgery Specialist
A controlled and delicate surgeon, Dr. Gross uses new and advanced techniques to sculpt refined yet noticeable results. His experience, attention to detail and sound surgical techniques ensure a better, more balanced profile.
Dr. Gross uses open rhinoplasty with well-hidden external incisions for greater visualization, predictable outcomes and direct control of the nasal tip. This technique is necessary for revision rhinoplasty to correct unsatisfactory results from previous nose surgeries.
Our practice is among the few that use computer imaging to show potential rhinoplasty results. With the help of this technology, Dr. Gross can reliably tailor a surgical treatment plan for each patient's rhinoplasty needs.
"Rhinoplasty is arguably the most challenging of all plastic surgery procedures, requiring 3-dimensional knowledge of anatomy and nasal function, and an artistic eye for beauty."
– Dr. Gross
Tip Plasty
Proper treatment of the nasal tip is essential for a natural result. Controlling, stabilizing and reshaping the tip – known as tip plasty – requires Dr. Gross' in-depth understanding of nasal composition, tip dynamics, healing processes, ethnic variations and physiological function.
Ethnic Rhinoplasty
Ethnic rhinoplasty improves nasal aesthetics and function while preserving the distinctive ethnic features of Asian, African American, and Hispanic patients' noses. Dr. Gross' artistic judgment and understanding of ethnic facial variations ensure his consistent success with ethnic rhinoplasty. Popular ethnic rhinoplasty techniques include nostril reshaping and nasal bridge elevation or reduction.
"I prefer individualized treatment of each segment of the nose to give a balanced, refined look without compromising function."
– Dr. Gross
Leading the Way in Patient Satisfaction
No matter where you prefer to do your research, you'll find plenty of 5-star reviews for Primera Plastic Surgery. Dr. Gross and his team strive for complete patient satisfaction, and they'll go above and beyond to ensure you're happy with every element of your experience.
Learn More
Rhinoplasty FAQ
How much does rhinoplasty ("nose job") cost?
At Dr. Gross' Orlando practice, rhinoplasty cost varies per patient depending on what type of procedure he performs and a number of other factors. The cost averages from $8,650 – $9,200 (surgeon fee-only and NOT including anesthesia or facility fees), but your costs may differ. Your consultation fee is put toward the cost of your surgery, which also includes computer imaging, all follow-up treatments for 1 year, and photographs. Dr. Gross is proud to offer financing through CareCredit®.
What is rhinoplasty recovery like?
After the approximately 2.5-hour outpatient surgery, you'll be instructed to use ice compresses on your forehead for 2 to 3 days to ease swelling and discomfort. Since we don't use nasal packing, most patients are surprised at how comfortable recovery is. We also provide homeopathic arnica tablets to reduce bruising and speed healing.A return visit will be necessary at 1 week post-op for cast and suture removal. You can return to school or work the day the cast is removed, looking quite normal and natural. Although the reveal is exciting, you should expect your rhinoplasty results to continue improving over the first year as swelling gradually subsides. It is expected that there may be some temporary numbness at the tip of the nose.
Will Dr. Gross need to break my nose during surgery?
It depends. In some cases, a controlled break is necessary to adequately reshape the nose. However, this is not always the case. For some patients, subtle bone reshaping is possible without a break. During your consultation, Dr. Gross evaluates your nose and discusses your goals with you to determine whether a break is necessary. Although it sounds a bit scary, having your nose broken during surgery will not significantly lengthen your recuperation. It is a common and safe method, particularly in Dr. Gross' experienced hands.
When can I get back to the gym?
Although you can return to work about 1 week after surgery, it's important to give yourself a bit more time off from vigorous activities, including exercise. This is because activities that quicken your pulse also raise your blood pressure, potentially leading to uncomfortable swelling and irregular scarring. In most cases, Dr. Gross recommends holding off on exercise for at least 2 to 4 weeks, gradually increasing your activity level as you heal.
What is recuperation like?
Many patients are pleasantly surprised to learn that recuperation following rhinoplasty is not particularly painful. Although discomfort is normal following any type of surgery, including rhinoplasty, it is generally manageable with prescribed medications. Many patients experience headaches and a feeling of sinus pressure or nasal congestion. These are normal and resolve as swelling gradually dissipates.
How accurate is the computer imaging session?
With more than 2 decades of experience using computer imaging, Dr. Gross produces results that closely match the previews provided on the imaging system. Barring any unforeseen problems, most patients will be very satisfied with the final results Dr. Gross simulates on the computer imaging system. Dr. Gross examines each patient individually and advises each patient about whether their expectations are realistic, based on this comprehensive analysis. We email these images to patients containing a standard disclaimer.
Where are the incisions placed during nose surgery?
Dr. Gross hides most rhinoplasty incision inside the nostril. External incisions may be hidden in the creases where the nose meets the cheek. He may also make an incision under the nasal tip (on the columella) for open rhinoplasty. This incision heals beautifully, leaving no visible scar. Dr. Gross removes external sutures after a week. Sutures inside the nose are removed 10 days after the procedure.
What type of cast will I have over my nose?
A nasal cast is made of aluminum and foam held in place with Steri-Strips™. You must keep the cast and tape completely dry for the entire week.
Computer Imaging
See Your Results Before Surgery
Our practice is among the few that use computer imaging to show potential results. With the help of this technology, Dr. Gross can reliably tailor a surgical treatment plan for the unique needs of each patient.
Learn More
Expert Beauty Guide
The Path to a Beautiful Nose
Boost Self Confidence
A Stunning Profile
Finda a Balanced Look
Is Your Nose Aging You?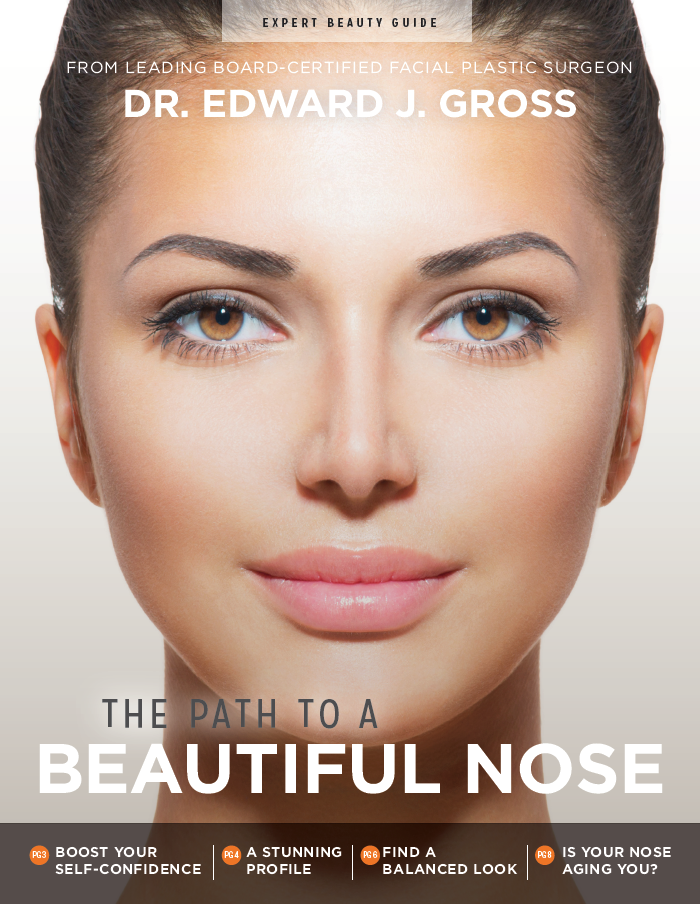 Download
Take the Next Step
Dr. Gross provides individualized treatment to create balanced, natural-looking results with rhinoplasty in Orlando. Ready to start your journey? Request a consultation today or call our office at  (407) 333-3040.
Back to Top