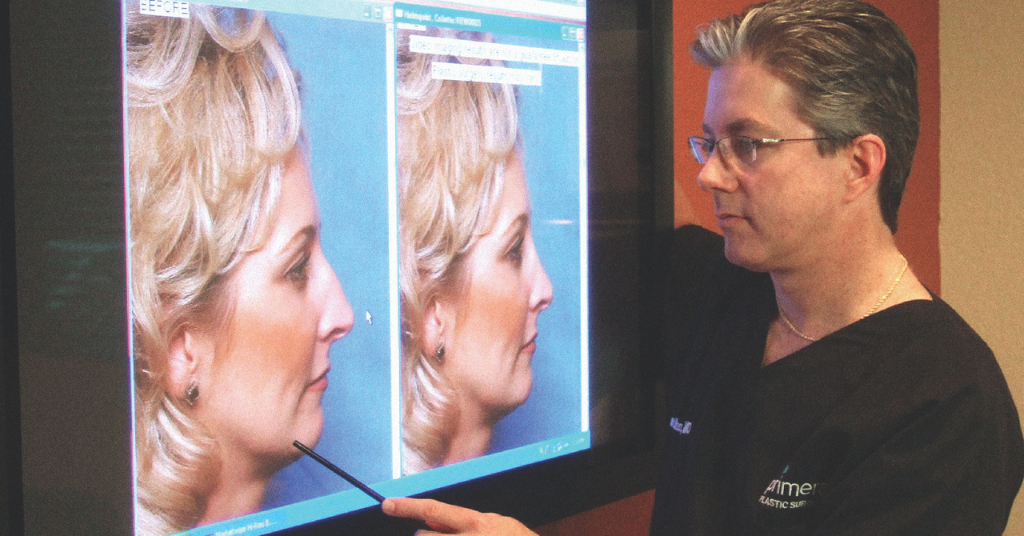 If you've ever wondered what you would look like after rhinoplasty, you may have found yourself experimenting with filters and apps that allow you to try out a "virtual nose job." With just a few taps and swipes, you can supposedly see how a smaller, straighter, more symmetrical nose would change your face. But can they accurately predict what you would look like after a rhinoplasty here in the Orlando area? And if not, how can you really see what a nose job would do for you?
In this blog post, I'll discuss where filters fall short and explain how I use state-of-the-art software to create an accurate image of a post-surgery nose.
Can apps or filters really show you what you would look like with a nose job?
FaceTune, photo editing apps, and filters allow you to tweak your features so you can envision potential rhinoplasty results. Some apps offer "beauty filters" that apply one-size-fits-all adjustments to the nose, while others allow for more personalized changes. People often use them to try out adjustments such as:
Pinching in the nasal bridge to narrow it
Turning the nose's tip slightly upward
Smoothing away an unwanted bump
Straightening a crooked bridge
Unfortunately, these apps and filters aren't very accurate. They use a flat image and a single camera angle and lighting scenario to give you a 2D rendering that is likely not true to your actual proportions. While they're fun to experiment with, they paint a skewed picture of what is possible with surgery.
If anything, they may give you a very general idea of the result you're looking for, which you can use as a jumping-off point if you decide to meet with a facial plastic surgeon. Learn more about ways to design your desired result in this related blog post.
How can you see what you would look like with a nose job?
Fortunately, it is possible to predict your results much more accurately with the help of a plastic surgeon. During rhinoplasty consultations, I use computer imaging to help you visualize your possible results before you commit to surgery.
Calling on my years of experience in facial plastic surgery, I use this specialized software to make precise, individualized changes. I'm then able to show you the predicted outcome on the screen so that you have as clear a picture as possible of what to expect.
Brooke's Story
Brooke was bothered by her nose being too big overall. Her bridge was thick and her tip too prominent. Her Computer result was very nice, but her Actual after result is even better. He nose is more shapely and feminine. Computer Imaging played a key role in her Consult and surgery. She is very happy.
It's one of the most important tools I use to make sure my patients love their rhinoplasty results when the gauze comes off. Not only does it allow me to formulate a clear roadmap for the procedure, but it also helps my patients feel secure, confident, and excited for their surgery instead of worrying about whether they'll like their results. In just about every case, people comment that their nose looks exactly as expected—and in many cases, even better.
To see real examples of rhinoplasty transformations, please visit our before-and-after photo gallery.
If you would like to talk more about the possibilities of rhinoplasty with an Orlando-area facial plastic surgeon, please contact us online or call (407) 333-3040.