Primera Plastic Surgery
1035 Primera Boulevard
Lake Mary, FL 32746

Phone: (407) 333-3040
Fax: (407) 333-3496

Mon–Fri: 9 a.m.–5 p.m.
Sat: 9 a.m.–3 p.m. (Med Spa only)

Cyst & Mole Removal
Dr. Edward Gross and the Primera team use leading mole and cyst removal treatments to help Orlando patients safely and effectively get rid of unwanted skin irregularities. Some patients are unhappy with the appearance of moles and cysts, while others find it physically uncomfortable when these growths rub against clothing.
Learn about our skincare services by requesting a consultation today, or call our office at (407) 333-3040.
Proven Techniques, Outstanding Results
Benign skin growths are common and often seem to appear out of nowhere. Luckily, they are usually easy to remove. At Primera, we treat the following concerns:
Cysts: Epidermal cysts can appear anywhere on the skin, but they most often develop on the face and neck. Cysts are often filled with liquid and can grow and become painful if ruptured or infected. A cyst can develop when epidermal cells become embedded more deeply and start duplicating. Cysts sometimes resolve on their own or require Kenalog injection, a mild steroid for the skin. At times, plastic surgery removal is necessary to get rid of unsightly or painful cysts with minimal scarring, especially on the face.
Moles: Moles come in different shades of black and brown and can be found in clusters or by themselves. They can be present at birth or appear at any age, and sun exposure often plays a role in why they develop. Because moles have the potential for malignancy, we remove them after they have been checked out by a specialist. Remember the ABCD of abnormal moles—asymmetry, irregular borders, different colors, and diameter greater than 6mm—which can indicate a skin cancer or melanoma.
We also remove skin tags, fibromas, osteomas (benign bony growths of the forehead), and lipomas (benign fatty masses under the skin). Additionally, we treat scarring after skin cancer removal or Mohs surgery of the face. Although we do not accept insurance or Medicare, many patients seek our services because of Dr. Gross' expertise as a board-certified facial plastic and reconstructive surgeon. In many cases, these conditions can be removed, or laser treated with minimal to no scarring in less than an hour under local anesthesia. Occasionally, a biopsy is recommended however most of these conditions are of a cosmetic nature and benign.
Edward J. Gross, M.D.
Double Board-Certified Facial Plastic Surgeon
With 24 years in practice, Dr. Gross' quality of care and results have earned the confidence and referrals of doctors throughout the region. His emphasis on patient education helps the men and women he treats feel comfortable and supported during their treatment.
Meet Dr. Gross
Request My Consultation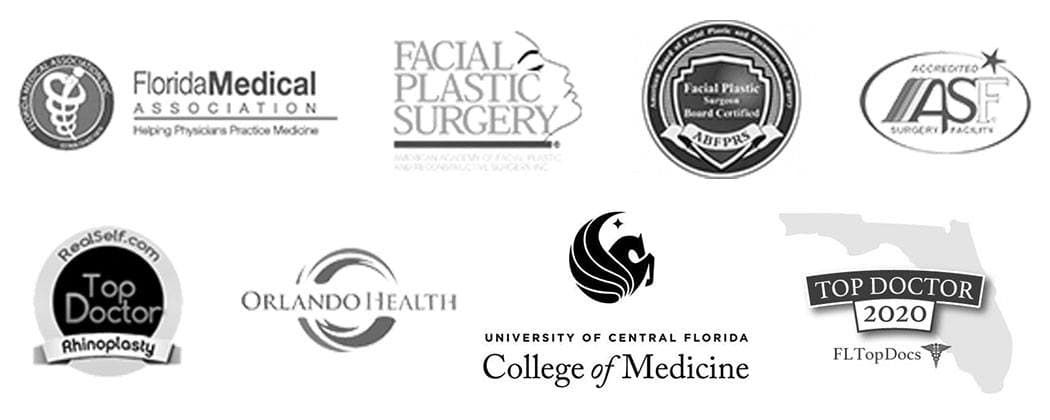 Cyst & Mole Removal with a Facial Plastic Surgery Specialist
Typically, cyst or mole removal is an outpatient procedure that takes about 30 minutes and is performed using a local anesthetic. We offer a few different options for removal. After thorough evaluation during your consultation, we will recommend a treatment plan that fits your needs.
Surgical Excision: When surgically removing a growth, Dr. Gross utilizes his plastic surgery training to carefully hide the scar in a natural skin crease and also uses special suturing techniques, which result in a barely noticeable line.
CO2 Laser: This approach removes skin irregularities by vaporization. It doesn't involve stitching, so there is less risk of scarring. We use the DOT CO2 Laser from DEKA, as it has a high safety profile and is FDA approved.
Pulsed Dye Laser: This type of laser therapy is often used for skin concerns such as age spots, cherry angiomas (red spots on the skin) or pink, red, and purple birthmarks, such as flame nevus, hemangiomas, or port wine stains. Treatments are non-invasive and non-ablative, which means the laser is effective without harming the surrounding skin and there is no risk of scarring. Several sessions scheduled about a month apart may be required.
Hyfrecator: This innovative device is used in electrosurgery. It works by heating the tissues and causing the unwanted cells to disappear. Milia or small whiteheads are ideally treated with the low-energy Hyfrecator.
Depending on the situation, pathology work or a skin biopsy may be recommended. However, most skin conditions we encounter are benign, including: nevus, mole, skin tag, fibroma, osteoma, lipoma, cyst, old scar, foreign body, cherry angiomas, sebaceous hyperplasia, and milia.
Cyst & Mole Removal Cost
At Dr. Gross' practice near Orlando, the cost for cyst or mole removal varies per patient depending on the extent of the procedure and a number of other factors. In general, the cost ranges from $1,350 ‐ $1,575, depending on the technique, size and depth (NOT including Anesthesia or Facility fees). The cost of a skin biopsy ranges from $100 to $150 and billed separately, as needed. Dr. Gross is proud to offer financing through CareCredit® for qualified patients. Although we do not accept insurance or Medicare, many patients seek Dr. Gross for his specialized training in facial plastic surgery and outstanding results.
A Smooth Recovery
Patients can return to work the next day if they are comfortable doing so. However, it takes about a week for the wound to heal. Make sure to keep the treated area clean and avoid sun exposure. If you have any questions or concerns during this healing period, do not hesitate to call our office.
Take the Next Step
To learn more about Cyst and Mole Removal from Dr. Gross, please request a consultation online or call (407) 333-3040.
Back to Top