Primera Plastic Surgery
1035 Primera Boulevard
Lake Mary, FL 32746

Phone: (407) 333-3040
Fax: (407) 333-3496

Mon–Fri: 9 a.m.–5 p.m.
Sat: 9 a.m.–3 p.m. (Med Spa only)

Your BOTOX® & Fillers Recovery Guide
Your BOTOX® & Fillers Recovery Guide
One of the biggest benefits of BOTOX and dermal fillers: the speedy recovery process. At our Orlando facial plastic surgery practice, our patients from Winter Park, Tampa, Melbourne, and Daytona Beach love how convenient and effective these minimally invasive treatments are. However, you should know a bit about the recovery process before you schedule your next injection.  
Board-certified plastic surgeon Dr. Edward Gross and our experienced master injector team are here to support you from start to finish, including the recovery process. Here, you'll find helpful info about how to prevent and disguise bruising, what your day-by-day recovery will look like, and more.
How Long Does It Take To Recover From BOTOX & Fillers?
BOTOX and dermal fillers like JUVÉDERM® involve little to no recovery downtime. You can return to work and your usual activities the same day of your appointment. In total, it takes a week or 2 to fully recover from BOTOX and about 3 weeks to recover from fillers. However, this time frame includes residual swelling and bruising that are typically barely noticeable.
We usually recommend scheduling your appointment 4 to 6 weeks before any big events; this allows the area to fully heal before your event and leaves a little time for refinements if needed.
Your Day-By-Day Injection Recovery Timeline
Day 1: You can go back to work or school right away. Ice and Tylenol will minimize discomfort and swelling. You may want to sleep with your head elevated and avoid strenuous exercise to minimize swelling and prevent your BOTOX from migrating.
Days 2 to 4: Swelling and bruising peak the day after your appointment. You can wear makeup, continue taking arnica tablets, and apply a warm compress for comfort.
Days 5 to 10: Most swelling and bruising will have resolved by this point. Your BOTOX results will start to become visible.
Days 10 to 28: Any minor residual swelling will continue to subside for the next 3 to 4 weeks.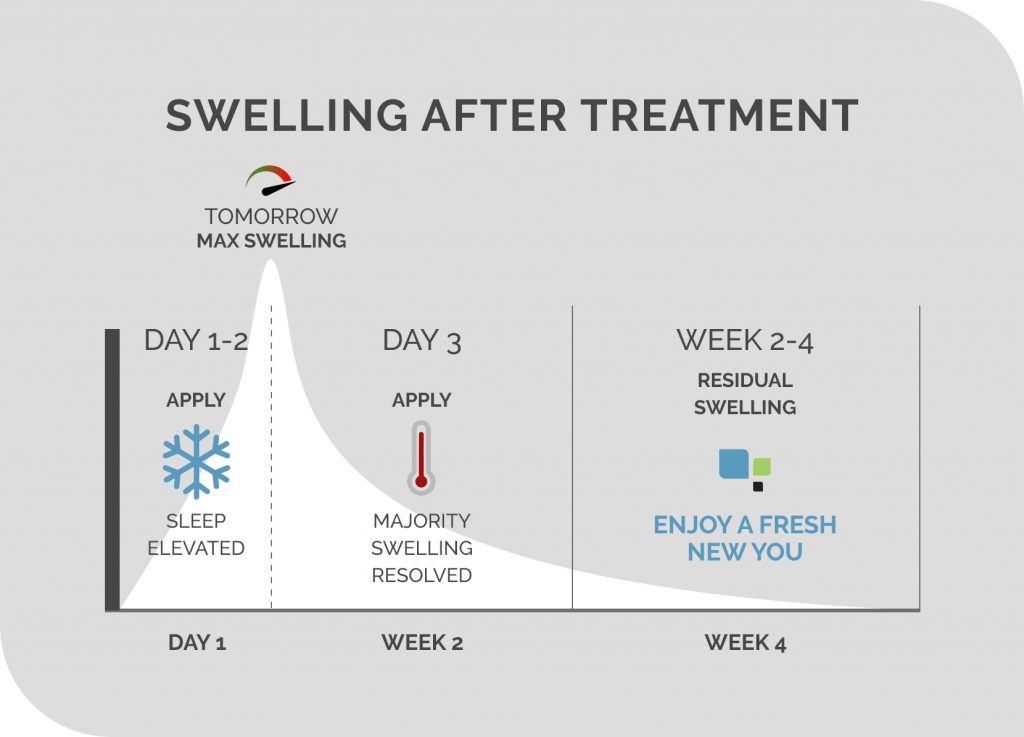 When Should I Call My Injector?
Call your injector if you notice significant color changes in your skin, swelling or redness that lasts more than a week, or severe discomfort.
How To Prevent Bruising From BOTOX & Fillers
Follow these preventive tips to set yourself up for a speedy recovery.
Avoid Blood Thinners
For a week or so before and after your appointment, avoid aspirin, vitamin E, fish oil, and other substances known to cause blood thinning. Check with your doctor before adjusting any blood-thinning medications.
Opt Out of Alcohol
Steer clear of alcohol about 48 hours before and after your appointment. Alcohol also thins the blood and tends to lead to more bleeding and bruising.
Take Arnica
Arnica montana is a homeopathic supplement well-loved in the world of aesthetics for its ability to minimize bruising and speed the healing process. Take it 2 to 3 days before your treatment and for a couple of days after to maximize its benefits. We also apply arnica cream topically following treatment to speed healing.
Use Cold Compresses & Sleep Elevated
Apply a cold compress the day of your treatment and for the first 24 hours afterward to minimize swelling, bruising, and discomfort. Use traditional or gel ice packs (never direct ice) that are given to you by your master injector team and take breaks from icing throughout the day. Also, sleeping a bit elevated for that first night will help to lower swelling.
Reach for Acetaminophen, Not Aspirin or Ibuprofen
While aspirin and ibuprofen (products like Advil and Aleve) may increase bruising, acetaminophen (Tylenol) doesn't have this effect. Take it to ease any soreness in the days after your treatment.
Wait to Work Out
You don't have to take major time away from your exercise routine, but it's a good idea to avoid strenuous exercise for a few days after your injections. Increasing your blood pressure right after your injections may exacerbate swelling and bruising.
How To Disguise Bruising After BOTOX & Fillers
You can wear makeup a few hours after your injections. Cosmetics are a helpful way to cover up bruising so you can get back to social activities without missing a beat. All it takes are 3 steps:
Color correct: Neutralize blemishes with colors on the opposite side of the color wheel. Go for orange to cover blue bruises and green to disguise any redness. You can often find products that contain a range of color-correcting concealer shades at drugstores and cosmetics retailers near you.
Conceal: Next, add a flesh-toned concealer on top and lightly blend in with the surrounding skin. You can follow this up with your usual foundation.
Set: A little setting powder will help your makeup products stay in place for as long as possible.
Next Steps
If you would like to learn more about Orlando BOTOX and dermal filler treatments, please request a consultation online or call (407) 333-3040.