Primera Plastic Surgery
1035 Primera Boulevard
Lake Mary, FL 32746

Phone: (407) 333-3040
Fax: (407) 333-3496

Mon–Fri: 9 a.m.–5 p.m.

Brow Lift
Double board-certified facial plastic surgeon Dr. Edward J. Gross offers different brow lift options for his suburban Orlando patients who are interested in restoring a youthful appearance to their upper faces. A traditional brow lift offers a more thorough rejuvenation than other techniques and is usually recommended for men and women in their 50s or older who have more advanced signs of aging and drooping brows.
Dr. Gross is a double board-certified facial plastic surgeon who can correct the sagging skin around our brows to make us appear younger and more alert. Request a consultation today, or call our office at (407) 333-3040.
Proven Techniques, Outstanding Results
Dr. Gross' brow lift procedures can improve your facial appearance by:
Raising the eyebrows to a more youthful position
Minimizing the creases that develop across the forehead
Repositioning or removing drooping brow skin that is hanging over the upper eyelids
Correcting "frown lines," or vertical creases between the brows
Edward J. Gross, M.D.
Double Board-Certified Facial Plastic Surgeon
With 24 years in practice, Dr. Gross' quality of care and results have earned the confidence and referrals of doctors throughout the region. His emphasis on patient education helps the men and women he treats feel comfortable and supported during their treatment.
Meet Dr. Gross
Request My Consultation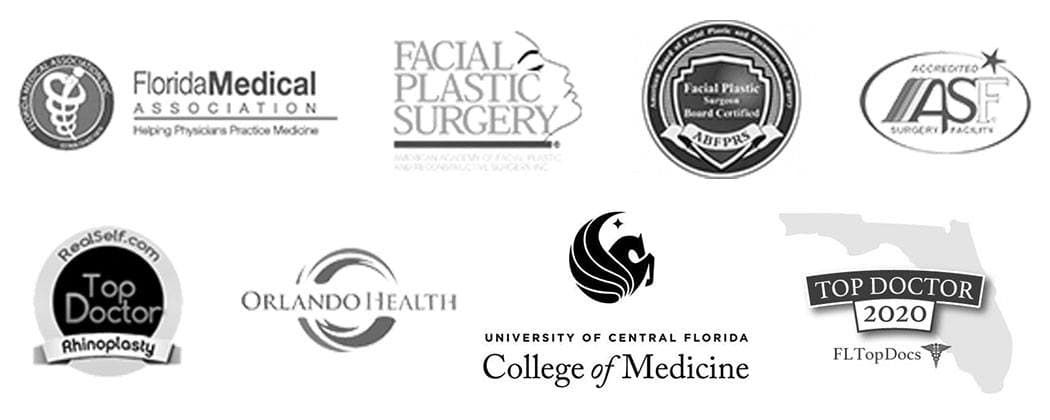 Brow Lift With a Facial Plastic Surgery Specialist
Although this procedure is done more commonly for men, it can also benefit women with heavy, drooping brows. Dr. Gross makes an incision above the eyebrow on the forehead. Because of this location just above the brow line, any scar heals very nicely and is camouflaged by the natural contours of the face.
During surgery, Dr. Gross can remove excess skin that has been drooping and tighten the facial muscles and tissue beneath the skin, leaving behind a smoother forehead and a more rested appearance.
Because this procedure affects the eyebrows, Dr. Gross often performs it in conjunction with upper eyelid surgery for a comprehensive overhaul. He also uses computer imaging before any procedures to show patients how they might look afterward.
Some patients may be better candidates for other brow and forehead rejuvenation procedures, such as the endoscopic forehead lift.
"The new youthful brow position is usually maintained for 10 years, letting you enjoy your new look."
– Dr. Gross
Computer Imaging
See Your Results Before Surgery
Our practice is among the few that use computer imaging to show potential results. With the help of this technology, Dr. Gross can reliably tailor a surgical treatment plan for the unique needs of each patient.
Learn More
Brow Lift FAQ
How much does a brow lift cost?
At Dr. Gross' practice, the cost for a traditional brow lift varies per patient depending on whether it is combined with other procedures, as well as a number of other factors. In general, depending on the technique, the cost ranges from $4,750 to 7,500 (NOT including anesthesia or facility fees). Dr. Gross is proud to offer financing through CareCredit® for qualified patients.
What is brow lift recovery like?
Brow lifts are performed as outpatient procedures lasting about 1.5 hours with general anesthesia in our AAAASF-approved surgical center. Most brow lift patients can go back to work 7 to 10 days after surgery. More strenuous activities should be avoided for several weeks. Bruising should subside after about 2 weeks. You will need to limit exposure to the sun for several months after your surgery. Some common side effects include temporary swelling, numbness, headache, and bruising. The traditional method also includes the possibility of scalp itching and hair loss.
What are the benefits of brow lift surgery?
This procedure, done via incisions hidden above the eyebrows, can elevate more of the lateral brow than the endoscopic method. Dr. Gross uses this method for patients with heavy brows and mostly for men.
What does a brow lift do?
This procedure lifts drooping eyebrows, removes hooding over eyes, and tightens and lifts the sagging eyebrows. It opens the upper eyelid area for better vision, as well.
What type of anesthesia do you use for a brow lift?
We require general anesthesia for this procedure.
Is brow lift an outpatient procedure?
Yes, this is an outpatient procedure at Primera Surgery Center.
What are the risks of brow lift surgery?
Injury to facial nerves, muscle weakness, an asymmetrical look, infection, broad or excessive scarring, eyebrow asymmetry.
How long will brow lift results last?
"The new youthful brow position is usually maintained for 10 years," according to Dr. Gross.
Leading the Way in Patient Satisfaction
No matter where you prefer to do your research, you'll find plenty of 5-star reviews for Primera Plastic Surgery. Dr. Gross and his team strive for complete patient satisfaction, and they'll go above and beyond to ensure you're happy with every element of your experience.
Learn More
Take the Next Step
If you are interested in learning more about brow lift procedures from Dr. Gross, please request a consultation online or call (407) 333-3040.
Back to Top