Primera Plastic Surgery
1035 Primera Boulevard
Lake Mary, FL 32746

Phone: (407) 333-3040
Fax: (407) 333-3496

Mon–Fri: 9 a.m.–5 p.m.
Sat: 9 a.m.–3 p.m. (Med Spa only)

Ear Surgery
Ear pinning surgery, or otoplasty, is designed to "pin back" protruding ears. This procedure reshapes the ear to create a more pleasing appearance and reduce the effect of ear protrusion. Double board-certified facial plastic surgeon Dr. Edward Gross performs ear surgery for Orlando residents who are age 14 or older.
If you are interested in otoplasty with Dr. Gross, request a consultation today, or call our office at  (407) 333-3040.
Leading the Way in Patient Satisfaction
No matter where you prefer to do your research, you'll find plenty of 5-star reviews for Primera Plastic Surgery. Dr. Gross and his team strive for complete patient satisfaction, and they'll go above and beyond to ensure you're happy with every element of your experience.
Learn More
Proven Techniques, Outstanding Results
Otoplasty gives the ears a more pleasing appearance by:
Removing excess cartilage from behind the ear
Sculpting the outer ear fold
Bringing the ears closer to the side of the head
Edward J. Gross, M.D.
Double Board-Certified Facial Plastic Surgeon
With 24 years in practice, Dr. Gross' quality of care and results have earned the confidence and referrals of doctors throughout the region. His emphasis on patient education helps the men and women he treats feel comfortable and supported during their treatment.
Meet Dr. Gross
Request My Consultation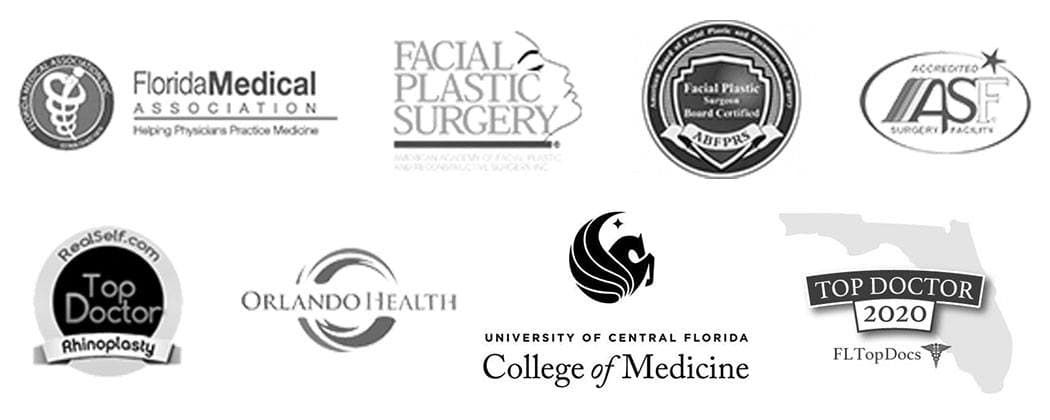 Ear Surgery With a Facial Plastic Surgery Specialist
Dr. Gross performs otoplasty through crescent-shaped incisions hidden behind the ears. Dr. Gross uses the Mustardé and Furnas techniques to reshape and reposition the ears for natural results. He uses dissolving sutures, so there are no stitches to remove.
Frequent handling of otoplasty cases is critical for successful outcomes. Dr. Gross' many years of experience with otoplasty and his eye for aesthetic balance have provided him with the skill required for these complex yet elegant techniques.
Some Orlando patients may choose to combine ear surgery with other facial procedures such as a facelift or rhinoplasty.
Before the procedure, Dr. Gross uses computer imaging to give patients a preview of what they might look like after ear surgery.
"Otoplasty is an especially rewarding aspect of facial plastic surgery. Its low risk of side effects, combined with the quick recovery process, makes it a popular choice for our patients."
– Dr. Gross
Computer Imaging
See Your Results Before Surgery
Our practice is among the few that use computer imaging to show potential results. With the help of this technology, Dr. Gross can reliably tailor a surgical treatment plan for the unique needs of each patient.
Learn More
Ear Surgery FAQ
How much does ear surgery (otoplasty) cost?
At Primera Plastic Surgery, the cost of most otoplasty procedures typically ranges from $5,575 to $7,000 (NOT including anesthesia or facility fees), although outliers on the high or low end of the spectrum are always possible. We offer financing through CareCredit® for qualified patients.
What is ear surgery recovery like?
Usually performed under general anesthesia, this outpatient procedure lasts 1.5 to 2 hours and is generally tolerated well. Patients rarely experience more than mild discomfort, which Dr. Gross treats with a long-lasting anesthetic.Temporary bruising and swelling are common side effects. Patients wear a head dressing for the first 2 days after surgery and an athletic-style headband continuously for a week and while sleeping for the first 2 weeks. The headband protects the ears and ensures a smooth result. Most otoplasty patients can resume work or school in 7 days, noncontact sports in 2 weeks, and contact sports in 2 months.
Is there a lot of pain afterward, and how long will it last?
Otoplasty performed by Dr. Gross typically is not painful and is associated with mild discomfort. Dr. Gross uses a long-acting anesthetic to relieve pain following the surgery; it wears off 8 to 12 hours later. There is some discomfort the first night after surgery due to the head dressing, but it is usually well-tolerated. The headwrap is removed in the office 2 days after the surgery, which provides substantial relief from pressure.
"A natural appearance of the ears is essential for patient satisfaction."
– Dr. Gross
Where are the stitches, and when are they removed?
There are no stitches to remove, and Dr. Gross hides the incision behind the ears, which results in a completely hidden line. He uses dissolving sutures, so there is nothing to remove at post-op visits.
What are the common side effects?
Temporary swelling, bruising around the ears, and discomfort. Some drainage and bleeding may occur from the wounds.
What are the risks of ear surgery?
Infection, asymmetry, scarring, re-protrusion of the ear (usually due to popped stitch or trauma), revision surgery, or artificial appearance of ears. These risks are minimized with an experienced Facial Plastic Surgeon, such as Dr. Gross.
How long will I enjoy my results?
Results are long-lasting. Note: A certain degree of "give back" or minor protrusion usually occurs several weeks following the procedure. This is normal.
Can I have just one ear pinned back?
Yes, the procedure can be done for a prominent ear on just one side; however, Dr. Gross will generally recommend both ears be treated for symmetry.
Take the Next Step
If you are interested in otoplasty with Dr. Gross, request a consultation today, or call (407) 333-3040.
Back to Top