Primera Plastic Surgery
1035 Primera Boulevard
Lake Mary, FL 32746

Phone: (407) 333-3040
Fax: (407) 333-3496

Mon–Fri: 9 a.m.–5 p.m.
Sat: 9 a.m.–3 p.m. (Med Spa only)

Chin & Cheek Implant
Chin and cheek augmentation are common procedures that improve the balance of your facial profile. Chin implants correct a "weak" or receding chin caused by congenital deficiency, age-related bone resorption, or facial trauma. Cheek augmentation adds fullness and gives the appearance of well-defined cheekbones. Double board-certified facial plastic surgeon Dr. Edward J. Gross offers chin and cheek implant procedures for Orlando men and women who hope to improve their facial harmony.
If you are interested in chin or cheek implants with Dr. Gross, request a consultation today, or call our office at (407) 333-3040.
Leading the Way in Patient Satisfaction
No matter where you prefer to do your research, you'll find plenty of 5-star reviews for Primera Plastic Surgery. Dr. Gross and his team strive for complete patient satisfaction, and they'll go above and beyond to ensure you're happy with every element of your experience.
Learn More
Who Is a Candidate for Facial Implants?
For both men and women, chin or cheek implants can create a more pronounced jawline and improve the appearance of your bone structure. People also pursue facial implants to restore lost volume in the cheeks, a normal consequence of aging. The best candidates have skin that retains enough elasticity to be repositioned successfully.
To be eligible for surgery, your jaw and teeth must be healthy and function properly. A patient with a mildly weak chin can benefit from an implant, as well. It's also important that your immune system is healthy to help reduce the risk of infection after the surgery.
It may be useful to first use soft-tissue fillers such as JUVÉDERM® or Restylane® to create a stronger and more prominent chin. If you like the results, you will probably be an excellent candidate for a chin implant. You may also want to use a filler to enhance your cheeks: Because the results are temporary and ultimately reversible, you can assess your new look before deciding on using an implant to make the results permanent.

Edward J. Gross, M.D.
Double Board-Certified Facial Plastic Surgeon
With 24 years in practice, Dr. Gross' quality of care and results have earned the confidence and referrals of doctors throughout the region. His emphasis on patient education helps the men and women he treats feel comfortable and supported during their treatment.
Meet Dr. Gross
Request My Consultation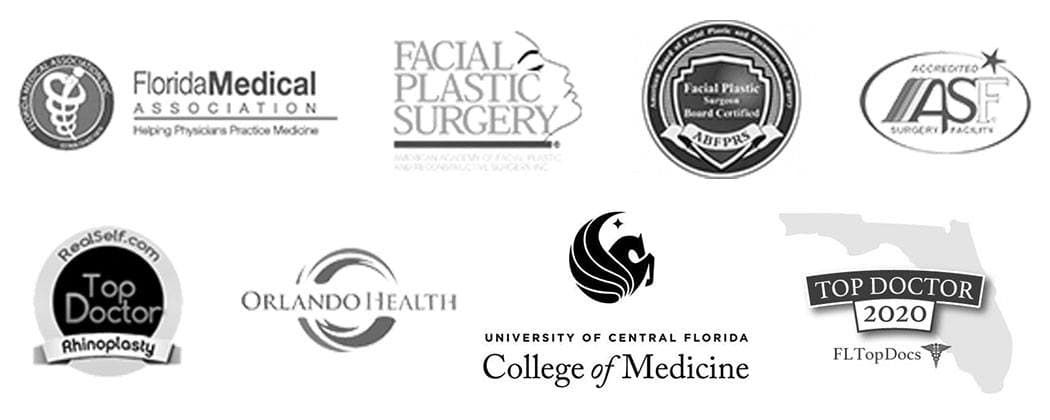 Proven Techniques, Outstanding Results
A weak chin can make the nose seem larger or make the neck appear full and undefined. Chin augmentation is the procedure of choice for most patients with normally functioning teeth and jaw development. Chin implants improve the facial contour by adding:
Increased projection
Improved shape
Cheek implants create a more youthful appearance by:
Adding volume to the cheekbones and midface
Lifting the cheeks and increasing their definition
Chin & Cheek Implants With a Facial Plastic Surgery Specialist
Dr. Gross performs chin implant procedures through an incision hidden under the chin. He typically uses an FDA-approved, medical-grade solid Silastic® implant for chin augmentation. For best results, Dr. Gross often performs chin augmentation at the same time as rhinoplasty, neck liposuction, or submentoplasty (tightening of the muscles underneath the chin and upper neck).
After making the incision, Dr. Gross creates a small pocket and inserts the implant in front of the jaw bone, making sure it sits at a position that looks balanced with your other facial features and improves your profile. Once he's satisfied, he closes the incision.
Dr. Gross uses the following chin implants:
The Conform™ Extended Anatomical Chin Implant is appropriate in the majority of cases. It mimics the natural contour of the mandible and is placed through a small incision under the chin. This implant also provides strengthening of the pre-jowl sulcus (side of the jaw) to create a more defined jawline. Women generally require a small to medium size implants, whereas men require medium, large, or extra large.
TheTerino Square Chin– Style I is recommended for men who want a more square jawline.
The Vertical Lengthening Chin is designed for patients who need vertical height in addition to forward projection. The Vertical Lengthening Chin implant creates a more elongated face and triangular jawline-chin shape.
Dr. Gross places cheek implants through hidden incisions inside the mouth. He uses Implantech® solid silicone implants for the cheeks. These implants come in various sizes and shapes, allowing for complete customization. Dr. Gross selects the best cheek implant for each patient after careful analysis and measurements of the face and cheeks. Chin augmentation takes place in conjunction with rhinoplasty in about 30 percent of his cases. He also frequently performs submentoplasty in combination with neck liposuction to enhance the overall result. Before chin or cheek procedures, Dr. Gross uses computer imaging to show patients their potential results.
"Chin and cheek augmentation procedures have increased in popularity with the advent of social media, as profile photos are frequently used."
– Dr. Gross
Computer Imaging
See Your Results Before Surgery
Our practice is among the few that use computer imaging to show potential results. With the help of this technology, Dr. Gross can reliably tailor a surgical treatment plan for the unique needs of each patient.
Learn More
Chin & Cheek Implants FAQ
How much does chin & cheek augmentation cost?
At Dr. Gross' practice near Orlando, the cost for chin and cheek implant procedures varies per patient depending on whether you get 1 or both types of implants, whether your implant surgery is combined with other procedures, as well as a number of other factors. In general, the cost ranges from $5,200 to $5,700 (NOT including anesthesia or facility fees) including implant as well. Dr. Gross is proud to offer financing through CareCredit® for qualified patients.
What is chin & cheek augmentation recovery like?
These outpatient procedures take about an hour, and recovery time is generally a week. Results are long-lasting. Pain is common for the first 1 to 2 days and can be eased with cool compresses and analgesics. Recovery time lasts about 5 to 7 days. Patients should avoid heavy lifting and contact sports for 2 weeks.
How can I prepare for recovery?
A few simple steps prior to surgery will make your recovery a smooth one. Think about your wardrobe, as well. It's best to wear something comfortable that doesn't have to be pulled over your head — both on the day of your procedure and in the first few days of your recovery. Make sure you have the following items available when you return home from our office:

Plenty of ice
Freezer bags
Clean gauze
The creams or ointments recommended by Dr. Gross to apply to external incision sites
Protein shakes, pudding, ice cream, and other soft foods
Mouthwash

Are facial implants safe?
Chin and cheek implant surgeries are safe procedures and complications are rare. The primary concern is infection, but that minimal risk is controlled with antibiotics. The implants are secured to the bone with a suture to the periosteum, eliminating the need for plates or screws.
How soon after surgery can I exercise?
Dr. Gross advises waiting at least 2 weeks before resuming your normal exercise routine. If you participate in contact sports, wait until you're completely healed before competing or getting back on the field. Chin and cheek implants are very stable, but may be dislodged in the first few weeks after surgery if you sustain a direct blow.
Should I get cheek implants or JUVÉDERM VOLUMA® XC?
This is a conversation you should have with Dr. Gross during your consultation. JUVÉDERM VOLUMA is an FDA-approved filler that treats age-related volume loss in the cheeks; results can last for up to 2 years. Synthetic implants are considered permanent and create contours for patients whose bone structure may be underdeveloped. For the right candidates, both options are excellent treatments.
What type of anesthesia do you use?
We use light general anesthesia for this type of surgery.
Is this an outpatient or inpatient procedure?
This is an outpatient procedure at Primera Surgery Center.
What are the side effects and risks?
The side effects are mild discomfort, temporary numbness of the skin, minor bruising and swelling, and the risk of infection (rare).
Where is the incision placed?
For chin implants, the incision is hidden under the chin in a natural crease. Sutures are removed at 1 week. For cheek implants, the incision is hidden inside the mouth. Sutures dissolve in 2 weeks.
How long will I enjoy my results?
Implant results are long-lasting. It's highly unlikely you will need a second surgery.

Take the Next Step

If you are interested in chin or cheek implants with Dr. Gross, request a consultation today, or call (407) 333-3040.
Back to Top