Primera Plastic Surgery
1035 Primera Boulevard
Lake Mary, FL 32746

Phone: (407) 333-3040
Fax: (407) 333-3496

Mon–Fri: 9 a.m.–5 p.m.
Sat: 9 a.m.–3 p.m. (Med Spa only)

About
Primera Plastic Surgery, Med Spa, and Spa are renowned throughout the metro Orlando, FL, area for our advancements in skin care and facial cosmetic plastic surgery. Women and men from Winter Park, Tampa, Melbourne, Daytona Beach, and beyone trust Dr. Edward J. Gross to enhance their appearances while keeping them informed and comfortable. We are proud of the sound reputation our practice has developed over the years, and we look forward to helping you meet your aesthetic needs.
Dr. Gross is a double board-certified facial plastic surgeon with more than 2 decades of experience. To learn more about Dr. Gross and our practice, schedule a consultation online, or call our office at (407) 333-3040.

Advanced Technology
Dr. Gross uses an advanced computer imaging system to assess each patient's anatomy, identifying facial features, teaching with visual aids, and, most importantly, developing a concept of potential results. Primera patients can see what they may look like after a procedure and discuss it with Dr. Gross beforehand. We email these computer images to the patient to review at home and share with family. This kind of personalized care is one of the reasons patients want to share their experiences via online review sites.
Patient Education
You can experience informative, patient-focused events from the front row at Primera during our "Art of Rejuvenation" events series. Patients can take part in live demonstrations, observe Dr. Gross performing cosmetic treatments, and meet the staff in an informal setting. Dr. Gross leads the events, educating Primera patients on anti-aging maintenance programs that they can incorporate effectively into their lifestyles. Q&A sessions with Dr. Gross allow patients to explore their options and receive advice, hints, and recommendations from a board-certified facial plastic surgeon serving Orlando. Sign up for our monthly e-blasts and quarterly newsletters focused on skin care, longevity, and special Primera offers on services and products.
Charity Organizations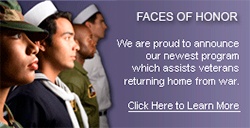 Dr. Edward Gross is an active participant in Faces of Honor, a program of The American Academy of Facial Plastic and Reconstructive Surgery (AAFPRS) . The purpose of the program is to provide pro bono medical and surgical expertise to veterans who were deployed in Iraq or Afghanistan and received face or neck injuries.
FACE to FACE is a humanitarian program of the AAFPRS. Its primary objective is assisting survivors of domestic violence. AAFPRS surgeons offer consultation and surgery free of charge to survivors of this violence, thereby enhancing their self-esteem and aiding them in rebuilding their lives.
To learn more about Dr. Gross' philanthropy, visit our Giving Back page.
A Reputation Built on Results
In 1 week it looked so natural and exactly the way I wanted There are not enough words for me to describe...
I had Botox with Joy and she did an amazing job. Joy was warm, attentive and answered all of my questions....
Joy was absolutely excellent! She was very warm, friendly, and provided superb service along with educational...
Excellent consultation experience. It was very warm, informative and gratifying. Thank you!