Primera Plastic Surgery
1035 Primera Boulevard
Lake Mary, FL 32746

Phone: (407) 333-3040
Fax: (407) 333-3496

Mon–Fri: 9 a.m.–5 p.m.
Sat: 9 a.m.–3 p.m. (Med Spa only)

Mini Facelift
Patients considering facial plastic surgery don't all have the same concerns. That's why Orlando facelift specialist Dr. Edward J. Gross relies on his vast experience to determine the best approach on a case-by-case basis. For some patients, a less invasive mini facelift is recommended at our Orlando practice. The procedure treats many of the same signs of aging in the face as a traditional lift, including sagging skin and jowls, but it uses shorter incisions and produces results that are generally more subtle.
If you're considering a mini lift, request a consultation today or call our office at (407) 333-3040.
Proven Techniques, Outstanding Results
During a mini lift, Dr. Gross focuses on creating natural-looking results through a conservative approach that leaves very minimal scars. Dr. Gross places incisions, which are usually very short and fine, in front of and behind the ears. Still though, as with a traditional facelift, the mini facelift addresses all the various tissue levels that are affected by aging, including the skin and muscles deep within the face. The main concerns this procedure can correct are:
Sagging or drooping skin
Early formation of jowls or an ill-defined jawline
Drooping neck skin
Edward J. Gross, M.D.
Double Board-Certified Facial Plastic Surgeon
With 24 years in practice, Dr. Gross' quality of care and results have earned the confidence and referrals of doctors throughout the region. His emphasis on patient education helps the men and women he treats feel comfortable and supported during their treatment.
Meet Dr. Gross
Request My Consultation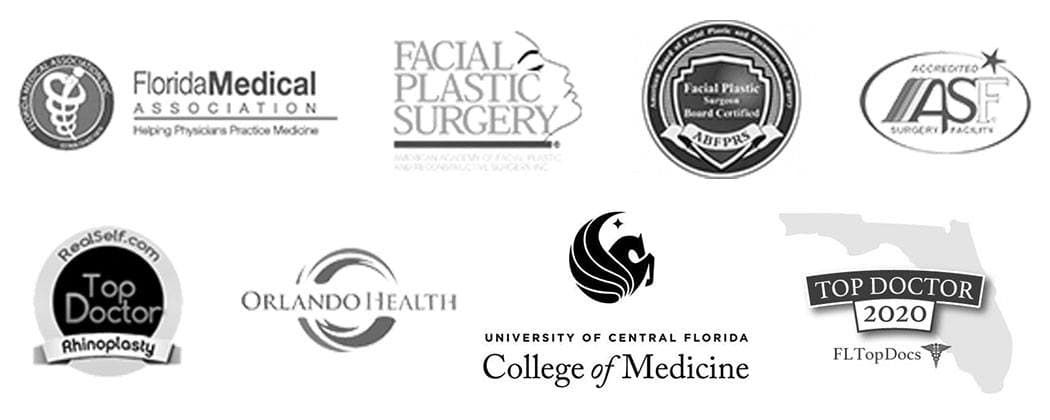 Mini Facelift With a Facial Plastic Surgery Specialist
The main difference between a facelift and a mini lift lies in the incision length and the amount of skin lifted. A full facelift takes longer and requires a longer incision and more skin elevation. This procedure is appropriate for older patients with more sagging in the cheeks and neck, as well as people who have lost a large amount of weight.
Mini Facelift Incisions
Mini facelift incisions are made both in front of and behind the ears but don't extend as far was for a traditional lift. Dr. Gross corrects the SMAS to improve the appearance of the jowls and neck with minimal scarring, better longevity, and natural-looking results.
Dr. Gross' mini lift is designed to create a natural appearance by smoothing and tightening the jawline with well-hidden incisions, and it is ideal for people between 40 and 60. The key is addressing the muscle layer for a longer-lasting and more natural-looking result. As an experienced facial surgery specialist, Dr. Gross is exceptionally qualified to perform the mini facelift.
Dr. Gross sometimes recommends combining a mini lift with a submentoplasty for a full neck lift procedure. He may also suggest adding complementary facial procedures such as eyelid surgery or a brow lift, which he can perform at the same time, along with non-surgical treatments that can address more superficial skin concerns such as fine lines or age spots.
"Combining treatments is a great way to erase a lot of concerns at once," Dr. Gross says, "and it can be done in a very subtle, natural-looking way, which is usually what my mini lift patients are looking for. In the end, these patients get compliments for looking 'well-rested,' and no one knows they've had a procedure."
You can also glimpse your potential mini lift results through computer imaging, which provides a simulated image that you and Dr. Gross can review and discuss together during a consultation.
"Surgical techniques have advanced to the point where a patient can get a fully rejuvenated face and renewed confidence with a fairly quick, simple procedure."
– Dr. Gross
Computer Imaging
See Your Results Before Surgery
Our practice is among the few that use computer imaging to show potential results. With the help of this technology, Dr. Gross can reliably tailor a surgical treatment plan for the unique needs of each patient.
Learn More
Mini Facelift FAQ
What is mini facelift recovery like?
Dr. Gross performs mini lift surgery as an outpatient procedure at Primera Surgery Center. Some discomfort, bruising, and swelling can be expected, but because a mini lift is less invasive and does less damage to surrounding tissues than a traditional lift, these effects are lessened. Arnica tablets help these symptoms subside in about a week.Most patients return to work in less than 2 weeks, but Dr. Gross urges patients to restrict their activity level for 2 or 3 more weeks. You may be encouraged to keep your head elevated in the initial days after surgery, and proper sun protection is very important.

Mini facelift results can last years, especially if patients stick to a good skincare routine and maintain a healthy lifestyle. Some patients may find they want to return to Dr. Gross for an additional treatment as signs of aging begin to redevelop in later years.

How much does a mini facelift cost?
At Dr. Gross' practice near Orlando, the cost of a mini facelift varies per patient depending on several factors, but typically ranges from $13,750 to $15,050 (NOT including anesthesia or facility fees). Dr. Gross is proud to offer financing through CareCredit®.
How long will a mini lift take?
Dr. Gross generally completes the procedure in about 3 1/2 hours, although this varies depending on individual anatomy and complexity.
Do you tighten the facial muscles in a mini lift?
Yes, Dr. Gross plicates (tightens) the SMAS muscle of the cheeks and neck for longer-lasting and better cosmetic results. The neck area may also require muscle tightening, which is a neck lift or platysmaplasty."Properly addressing the muscle layer is critical to successful outcomes in facial surgery and may be overlooked or not well understood by inexperienced surgeons," Dr. Gross says.
What is the difference between a mini lift and facelift?
The main difference is the length of the incision and degree of undermining, or skin lifting. The facelift requires more time, skin elevation, and a longer incision than the mini lift. It is generally required for older patients with more sagging in the cheeks and neck, or after a great deal of weight loss. However, both procedures address all the different tissue levels, including the underlying muscle called the SMAS.
What is the difference between a mini lift and a Lifestyle Lift?
There are many differences between our procedure and the Lifestyle Lift. We take the appropriate amount of time to complete each person's surgery, which is typically about 3 hours — not a "facelift in about an hour," as the Lifestyle Lift claims. Dr. Gross and other board-certified plastic surgeons do not feel that speed should be a factor when performing facial surgery and do not operate on quotas or run mills, as is done at Lifestyle Lift. Also, our surgical treatment involves elevating, tightening, and repositioning the SMAS muscle of the face and neck. Repositioning and tightening the muscles of the face, taking the time to close the tissue planes in multiple layers, and tailoring the procedure to each individual's needs results in a superior and long-lasting outcome.

"Simply pulling the skin, placing thick whip stitches (which leads to noticeable and oftentimes disfiguring scarring), and applying a one-size-fits-all approach as is done in the Lifestyle Lift leads to unhappy patients," Dr. Gross says.

Our carefully performed methods lead to superior cosmetic results, which stand the test of time, look natural, and are what our patients are seeking. We also comply with state regulations regarding ambulatory surgery and have an anesthetist monitoring the patient at all times. Lifestyle Lift does not. Our facility has all necessary emergency equipment and a crash cart and is accredited by the AAAASF. Lifestyle Lift is not. Our patients are seen in a comprehensive consultation by a doctor, using a computer imager. Lifestyle Lift does not.

Typically, a salesperson with no medical training will attempt to sign up patients for Lifestyle Lift using pressure tactics and deceptive photos. There is no substitute for meeting your surgeon and asking questions about results and risks. "I frequently hear that patients do not meet the doctor until the day of surgery at Lifestyle Lift," says Dr. Gross, which may explain their high (42%) dissatisfaction rate. In contrast, we take an individualized approach to each patient's care and provide the experience and support of a board-certified Facial Plastic Surgeon and a dedicated team. "Don't cut corners when it comes to your face," Dr. Gross says. It's a decision many patients (from Lifestyle Lift) have deeply regretted. From your initial visit, to your surgical result, on through to post-op care, you will have a completely different and elevated experience at Primera.
Leading the Way in Patient Satisfaction
No matter where you prefer to do your research, you'll find plenty of 5-star reviews for Primera Plastic Surgery. Dr. Gross and his team strive for complete patient satisfaction, and they'll go above and beyond to ensure you're happy with every element of your experience.
Learn More
"It's never too late for facial rejuvenation!"
– Dr. Gross
Take the Next Step
If you're considering a mini facelift here in Orlando, request a consultation online or call (407) 333-3040 to schedule an appointment.
Back to Top