Primera Plastic Surgery
1035 Primera Boulevard
Lake Mary, FL 32746

Phone: (407) 333-3040
Fax: (407) 333-3496

Mon–Fri: 9 a.m.–5 p.m.
Sat: 9 a.m.–3 p.m. (Med Spa only)

Blepharoplasty
For a rested, alert appearance that communicates the youthful vigor you feel inside, it all begins with the eyes. Genetics and age-related changes, however, can result in heavy upper lids or puffy bags below your eyes that may cause people to think you're tired or sad. Blepharoplasty, also called eyelid surgery, performed by double board-certified Orlando facial plastic surgeon Dr. Edward J. Gross can provide dramatic results with a minimal recovery period.
You can learn more about eyelid surgery from Dr. Gross, one of the few double board-certified facial plastic surgeons in the region, by requesting a consultation online. Or call our office at (407) 333-3040 to schedule an appointment.
Proven Techniques, Outstanding Results
Blepharoplasty is an extremely effective option for removing extra fat and loose, lax skin from the upper and lower eyelids. Although the surgery is a relatively simple procedure with a quick recovery, it can significantly improve the entire face by brightening and smoothing the area around the eyes. This versatile surgery can treat many common concerns when topical products fall short. These include:
Excess skin that can obscure the natural folds of the upper eyelids
Loose skin that hangs down from the upper eyelids, which is sometimes severe enough to impair vision
A puffy appearance in the upper eyelids that can make you look tired
Excess skin and fine, "crepe paper" wrinkles along the lower eyelids
Bags, dark circles, and shadows beneath the eyes
Lower eyelid droopiness
Edward J. Gross, M.D.
Double Board-Certified Facial Plastic Surgeon
With 24 years in practice, Dr. Gross' quality of care and results have earned the confidence and referrals of doctors throughout the region. His emphasis on patient education helps the men and women he treats feel comfortable and supported during their treatment.
Meet Dr. Gross
Request My Consultation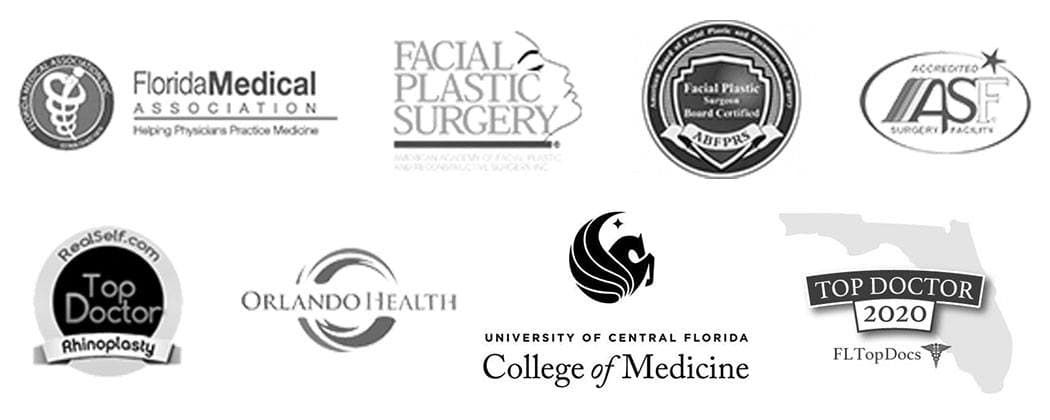 Blepharoplasty With a Facial Plastic Surgery Specialist
In addition to removing excess skin from the eyelids, Dr. Gross makes necessary adjustments to the eyelid muscles for smoother, long-lasting results. Using a refined procedure called transconjunctival blepharoplasty, or TCB, Dr. Gross may perform lower lid blepharoplasty without sutures or stitches. This leads to a quicker recovery and no visible suture line, because incisions are placed inside the lower eyelid.  In certain cases, he may place a thin incision just beneath the eyelash area of the lower eyelid to perform a more comprehensive lower eyelid lift that tightens a sagging muscle, removes a small amount of fat and excess skin. This procedure is called skin-muscle flap or SMF . A natural look to the eye with concealed incisions is paramount to achieving successful blepharoplasty results for men & women in Orlando.
Dr. Gross may recommend a forehead lift for patients with an upper eyelid condition accompanied by sagging of the eyebrows. He may also suggest BOTOX® Cosmetic or laser resurfacing procedures to smooth crow's feet or other fine wrinkles. To treat circles beneath the eyes caused by dark pigmentation, Dr. Gross may recommend fillers such as Restylane® or a fat transfer. Other options for rejuvenation around the eyes include prescription-strength bleaching cream with Hydroquinone (HQ 4,6,8,10%), a topical Retinol or a light chemical peel.
For best results, Dr. Gross often combines eyelid surgery with eyebrow lifting using brow lift techniques, endoscopic forehead lift, and Endotine® products or other complementary treatments such as BOTOX, Dysport, ICON IPL, or laser peels such as DOT CO2 Laser or Fraxel® Laser. Dr. Gross finds that combining treatments in this way often results in a much better overall rejuvenation that looks more natural.
As a double board-certified facial plastic surgeon, Dr. Gross has a keen understanding of the anatomy of the face. He uses this knowledge and his extensive practical experience to make surgical recommendations that fit your anatomy and lifestyle, creating beautiful results that you can enjoy for years.

"Blepharoplasty is one of the most gratifying plastic surgery procedures. The eyelid area is also the most common area of need for both men and women."
– Dr. Gross
Blepharoplasty FAQ
How much does eyelid surgery cost?
The cost of any plastic surgery procedure is highly dependent on several different factors, including your geographic area, the severity of your symptoms, your surgeon's experience, and whether your surgery is performed in a hospital, surgical center, or another facility. Therefore, it's difficult to provide a precise number over the internet. At Primera Plastic Surgery, the total cost of most blepharoplasty procedures falls between $4,500 and $7,500 (NOT including anesthesia or facility fees), although outliers on the high or low end of the spectrum are always possible.During your consultation, you and Dr. Gross spend plenty of time discussing your surgical options. He also offers you a written quote that reflects the specifications of your surgery. Dr. Gross is pleased to offer his patients financing options to help them work eyelid surgery into their budgets. Our staff will help you navigate a plan that suits your lifestyle.
What is blepharoplasty recovery like?
Eyelid surgery is an outpatient procedure at Primera Surgery Center. Upper blepharoplasty takes place under local anesthesia with oral sedation or general anesthesia. When performed together, upper and lower blepharoplasty call for light general anesthesia, with a comfortable, easy recovery.Temporary side effects include discomfort, bruising, swelling, and dryness. Patients can generally resume reading after 2 to 3 days and driving after 7 days. Most patients can resume work after 7 to 10 days, wearing contact lenses after 2 weeks, and strenuous activities and drinking alcoholic beverages after 3 weeks. Results can last 10 years or more.

Who is a candidate?
Good candidates for eyelid surgery are healthy non-smokers who have cosmetic or even functional concerns, such as heavy upper lids that obstruct vision, bags underneath the eyes, puffiness in the upper lids, crepey skin, and sagging eyelids.
How will this procedure help me?
Upper and lower eyelid surgery can correct drooping upper eyelids and puffy bags below the eyes by removing excess fat and skin and tightening muscle. Patients who undergo eyelid surgery are typically very satisfied because they appear refreshed and alert. Also, they no longer have to answer questions about whether they're feeling OK or whether something is wrong prompted by the appearance of their eyelids.
How long does eyelid surgery take?
Each procedure is unique and the total time in surgery depends on whether it involves the upper eyelids or lower eyelids, or both. Most cases take about 1 to 2 hours.
What type of anesthesia do you use?
When upper eyelid surgery is performed as a stand-alone procedure, a local anesthetic combined with an oral sedative is enough to keep a patient comfortable without using general anesthesia. Combining upper and lower eyelid surgery requires light general anesthesia.
Is this an inpatient or outpatient procedure?
Dr. Gross performs all blepharoplasty surgeries as outpatient procedures at Primera Surgery Center, our on-site, AAAASF-accredited surgical and recovery facility designed with integrated surgical amenities. The surgical center features a private, confidential entrance.

Leading the Way in Patient Satisfaction

No matter where you prefer to do your research, you'll find plenty of 5-star reviews for Primera Plastic Surgery. Dr. Gross and his team strive for complete patient satisfaction, and they'll go above and beyond to ensure you're happy with every element of your experience.

Learn More

What are the common side effects?
Eyelid surgery is a relatively simple procedure with minimal side effects. The most common are temporary discomfort, swelling, and bruising. In the first few weeks, you may experience dry and itchy eyes, tearing, and increased light sensitivity. Temporary episodes of blurred vision are also possible. Swelling at the corners of the eyelids may last weeks, and you may notice tiny whiteheads form. Slight asymmetry in healing or scarring is possible, although scars are usually well hidden. Rare complications include difficulty in closing eyes completely (usually temporary), a downward pulling of the lower lids (possibly requiring further surgery), or blindness (extremely rare).
How long will it take me to get back to regular activity?
While patient experiences vary, you should be able to read in 2 or 3 days, drive in 7 days, and go back to work in 7 to 10 days. You can resume wearing contact lenses in about 2 weeks. Strenuous activities and alcohol should be avoided for about 3 weeks. Bruising and swelling should dissipate in several weeks.
How long will the effects last?
Eyelid surgery, just like all facial plastic surgery, doesn't stop the aging process. But it will turn back the clock, and the results should last at least 10 years.
Can I combine eyelid surgery with other procedures?
Eyelid surgery is often performed as part of an overall facial rejuvenation plan crafted by Dr. Gross. For example, he often recommends combining a brow lift with eyelid surgery to ensure the overall results look seamless and natural. Other complementary procedures performed around the eyes include BOTOX Cosmetic injections, a TCA chemical peel, or a laser peel to improve the appearance of the skin.

Take the Next Step

To learn more about eyelid surgery from Dr. Gross, please request a consultation online or call (407) 333-3040.
Back to Top