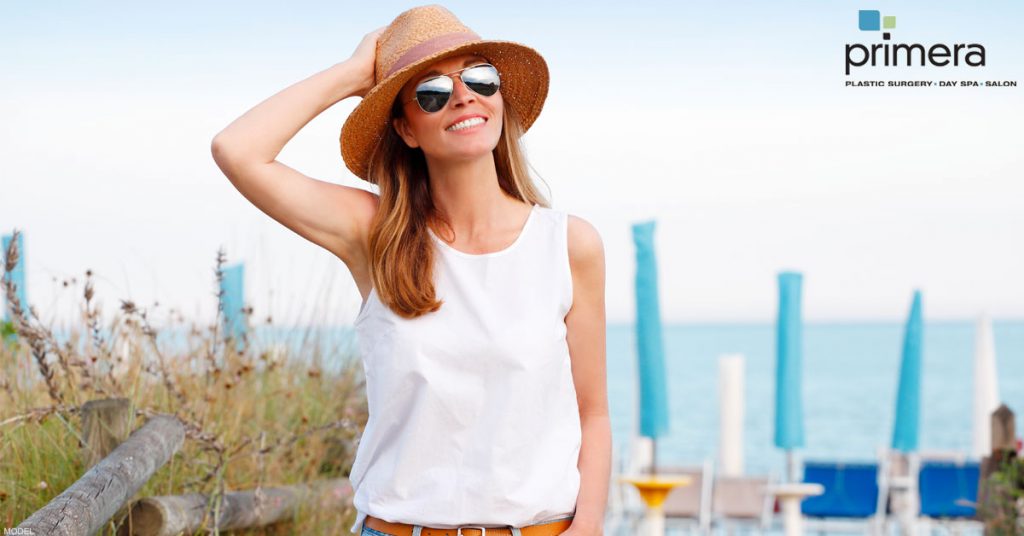 Who knew that some of your daily chores and favorite activities could give you wrinkles? Laying by the pool, walking the dog, and mowing the lawn all unfortunately contribute to facial aging. Why? Sun exposure is often the primary cause of wrinkles, pigmentation, sun spots, reduced skin elasticity, and more. Fortunately, at our plastic surgery center, we offer several skin rejuvenation options to help Orlando men and women combat these issues.
Why is sun exposure so harmful?
When UV rays reach your skin, they interact with the melanin in your skin. Melanin is what protects your skin against sun damage. When the amount of UV rays you are exposed to exceeds the limit of melanin protection, you get a sunburn. Repeated overexposure to the UV rays is what leads to different signs of facial aging.
Sun exposure not only can damage your appearance, but also put you at risk for different types of skin cancer. It is important to note that on overcast days you're still being exposed to UV rays, so make sure to wear sunscreen every day. Wearing sunscreen and covering up with hats and sunglasses is the best way maintain youthful and healthy skin. Prevention is key!
How can you reverse the effects of the sun?
The best nonsurgical rejuvenating treatments include:
Check out our photo gallery to see real patient results from these treatments. To learn more about which of these skin rejuvenation treatments is best for treating you at our Orlando plastic surgery practie, request a consultation online or give us a call at (407) 333-3040.