It took Samuel Rodriguez 43 years to remove a mole and now that it's done, he says, "Honestly, I'm happier now that it's gone." Samuel is a laser resurfacing patient at our Orlando facial surgery practice, and he's one of hundreds of Americans every year who seek the removal of an unsightly or uncomfortable mole with SmartXide DOT Laser technology.
What is the SmartXide DOT Laser?
The SmartXide DOT is a type of carbon dioxide laser (CO2 laser) that uses beams of light to first target, and then remove moles and resurface the skin. The technology has been around since the '80s and has only improved over time as a way to rejuvenate and improve the skin.
The SmartXide DOT laser uses electricity to produce short, very concentrated light beams to vaporize skin cells. This painless, non-invasive tool literally smooths away the surface epidermis cells, which allow the growth of fresh skin. The treatment also stimulates the production of collagen to plump up and tighten the skin.
The SmartXide DOT laser is a terrific tool for mole removal, as Samuel found out, but it can also:
Eliminate the discoloration from sun damage or age spots

Help smooth fine lines and wrinkles

Improve or eliminate stretch marks

Reduce acne scars or uneven textures on the chest, face, and neck
You can learn more about how laser treatments address these skin concerns in a related blog post.
Traditional lasers remove the skin's surface layer and can be painful with a week or more of downtime following the procedure. The SmartXide uses dermal optical thermolysis (DOT therapy) to create microscopic perforations in the skin. It's a much more targeted tool and doesn't damage the surrounding skin, which means the treatment area heals faster.
Since the SmartXide DOT laser doesn't go as deep as other types of CO2 treatments, only a topical anesthesia is used. Some patients may experience mild discomfort or a slight stinging sensation. The treatment can take up to an hour.
Samuel's experience with the SmartXide DOT laser at Primera Plastic Surgery was very positive. He says, "I actually have friends and family that have moles," and he is recommending Primera so they can have the same experience of mole removal.
How Can Laser Technology Help with Moles?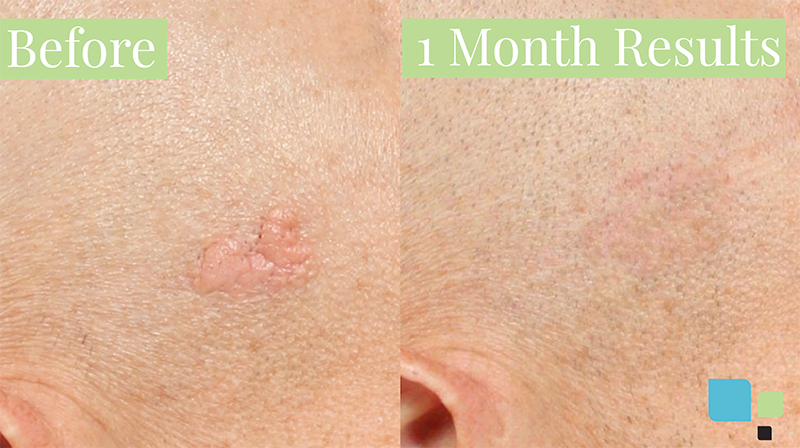 Samuel came to Primera to have a facial mole removed. He had the mole since birth, but he said it really started to bother him in high school. At the time, he had a lot of hair that covered the mole.
Moles are tiny skin cells that cluster instead of spreading across the skin surface. These cells, called melanocytes, produce skin pigment that can darken with sun exposure. By far, most moles are not dangerous. However, if you notice any changes to the size, shape, or color of a mole, it's time to see a doctor to evaluate the condition. The dermatologist will likely conduct a biopsy, or surgical removal of the spot and have it evaluated by a specialist to make sure it's not skin cancer.
Keep in mind the following guidelines that could indicate your mole is a precancerous or cancerous condition:
A for asymmetry

B for border

C for color

D for diameter

E for evolving
If you have an asymmetric mole with a border that is changing, the color of the mole evolves, or the diameter of the mole is greater than 6mm, it is time to call your doctor. Certainly, if the mole bleeds, itches, or looks infected, it's time to seek some help.
While the majority of moles are not a bother, the ones that occur on the face can be an unsightly cosmetic problem that calls for removal. The best procedural choice for removing a mole can depend on a variety of factors, such as how large or deeply rooted the cells are, or even the financial situation of the individual patient.
At Primera Plastic Surgery, there are a number of options for mole removal:
Hyfrecator is a type of electrosurgery to heat tissues and cause the mole to disappear

Pulsed Dye Laser skin treatments

can remove facial veins, rosacea, birthmarks, moles, or other troubling skin issues

SmartXide DOT laser vaporizes skin lesions with no surgical intervention

Surgical excision to skillfully remove and then hide the scarring from the surgery
SmartXide DOT lasers are often preferred over older technology treatments because the tool can be used to treat very delicate areas. It also doesn't require suturing, which can cause scarring.
In Samuel's case, his mole was facial and near his eyes. Patients are given protective goggles to wear during the SmartXide DOT laser procedure, which is more precise than older tools on the market for mole removal.
He was ultimately surprised by the result, saying, "I thought they were going to take the surface and maybe I would have bumps, but it's nice and soft and flat. It's actually better than I anticipated."
Is Mole Removal Right for You?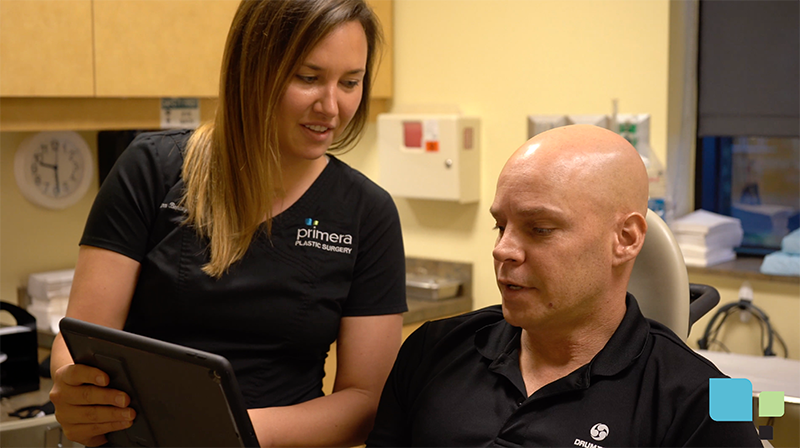 According to the American Academy of Dermatology, almost every adult has a mole or two on their bodies. Moles are types of skin lesions that can be benign or potentially cancerous. WebMD says most moles appear between childhood and age 25: "It is normal to have between 10 to 40 moles by adulthood." Over time, moles can change color, grow, or even sprout a hair or two. Some may even disappear.
Most moles are physically harmless but cosmetically unappealing, particularly if they are a different color from your regular skin. This is particularly true if the mole occurs on the face, neck, or hands. Moles can be tiny or cover big skin patches, and their size and texture can vary.
If the mole has not changed in a way that could indicate cancer, removing the growth is a cosmetic decision based on your individual preference. Samuel's experience is typical at Primera Plastic Surgery. His glowing recommendation highlights the real reasons behind our work. Samuel stated, "My self-esteem is going up."
If you're ready to finally take care of that frustrating mole, we're here to help. You can request a consultation using our online form or call us at (407) 333-3040 to schedule an appointment.