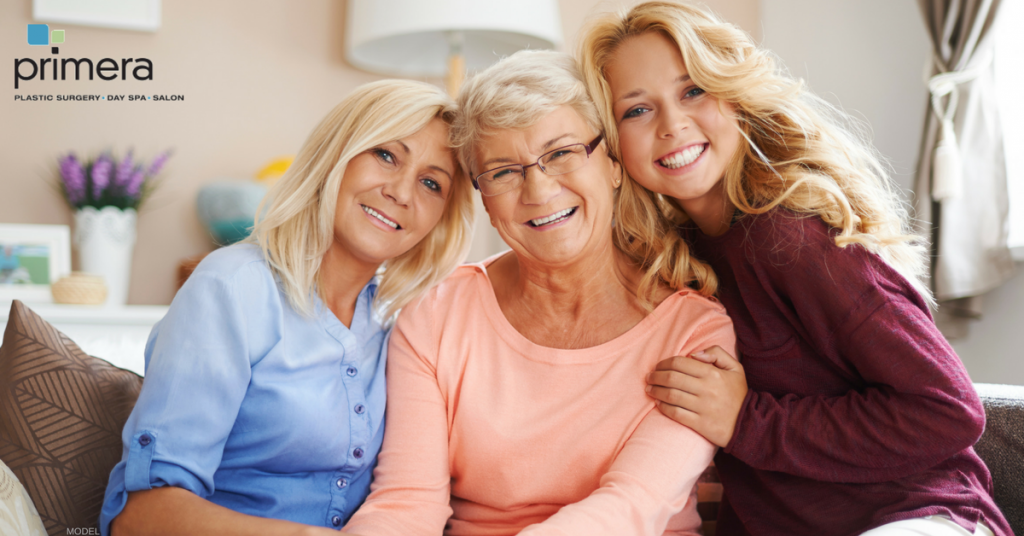 Men and women of all ages come to our Orlando practice for dermal fillers and other types of injectables because of their safety and long-lasting results. In general, people have different needs depending on their stage of life and the skin concerns that come with it. Here's a rundown of how we typically use injectables for the different age groups we see at Primera.
Patients in Their 20s
At this age, most patients typically aren't concerned about wrinkles or fine lines just yet. However, we often see younger patients coming in to augment lips, correct dark circles, and diminish acne scars.
JUVÉDERM® is an FDA-approved injectable filler that uses a gel formulation of hyaluronic acid to add subtle volume and contour the lips. When you opt for JUVÉDERM at Primera Plastic Surgery, you're opting for high-quality lip fillers from professional, compassionate, and experienced staff. You should always have a medical professional administer any injection, and JUVÉDERM is no exception. Results generally last up to 6 months for lip fillers.
Dark circles are a common concern for men and women of all ages. For patients in their 20s, dark circles can dramatically age them and make them look perpetually tired. Often, the dark circle is a shadow caused by bags or hollowing under the eyes. Fillers like Restylane® can smooth the under-eye area and reduce the appearance of these dark circles and bags.
Patients in Their 30s & 40s
Patients in their 30s and 40s are just beginning to notice signs of aging on their faces—fine lines and wrinkles, loss of volume in the cheeks, and the dreaded double chin. Because signs of aging are in their early stages, your 30s and 40s is a good time for both correction and prevention.
Neuromodulators like BOTOX® Cosmetic can be a good option for reducing lines around the eyes and forehead. These wrinkles are just beginning to become more apparent, so treatment can prevent further deepening while taking care of existing lines.
RADIESSE® is a filler and a collagen stimulator. Because of this, you can enjoy both immediate and long-lasting results for concerns such as nasolabial folds. Over time, RADIESSE stimulates the growth of new collagen that can last up to a year or more.
Patients in their 30s and 40s often use JUVÉDERM to correct lines around the lips and add volume to the lips.
Sculptra® Aesthetic gradually restores volume to nasolabial folds and other facial wrinkles by stimulating collagen growth. Results are not immediate, but they can last for more than 2 years.
KYBELLA® is an injectable treatment that shrinks a double chin. It can reduce fat under the chin for a slimmer, younger-looking neck and more defined jawline.
Patients in Their 50s & 60s
Men and women in their 50s and 60s come to Primera to improve the look of wrinkles, volume loss, sagging skin, jowls, and neck bands. We provide many options for comprehensive facial rejuvenation that can take years off your appearance.
Lines and wrinkles are some of the most obvious signs of aging. BOTOX is designed to treat dynamic wrinkles that are caused by repeated facial expressions (such as frown lines and crow's feet). It is also effective in treating vertical neck bands that contribute to an aged look.
JUVÉDERM and Restylane fill in lines, wrinkles, and under-eye hollows, and also restore more youthful facial contours by adding volume to cheeks that have begun to droop or flatten with age.
RADIESSE works to not only restore lost volume in areas like the mid-face, chin, and jawline, it also stimulates the production of your own natural collagen for longer-term results.
Be sure to visit our photo gallery to see the actual results we've achieved for patients of all ages with injectables.
It is important to note that the best treatment for aging skin is prevention. We offer our own line of high-quality skincare products to help you keep your skin looking healthy and vibrant.
If you're interested in learning more about your nonsurgical anti-aging options, check out our previous blog post.