The computer imaging system Dr. Edward J. Gross uses is a very powerful tool, especially for procedures like rhinoplasty at his Orlando practice. It helps you visualize your results leading up to a plastic surgery procedure.
This digital imaging technology helps Dr. Gross assess your anatomy, facial features, and balance. It also allows him to teach new patients with visual aids. Most importantly, he uses this computer software to help develop a concept of potential results for each individual plastic surgery patient.
What Procedures Can Benefit From Digital Imaging?
Almost any facial plastic surgery procedure can benefit from the tools that digital imaging provides. Dr. Gross uses computer imaging (from United Imaging, Inc.) particularly for surgeries like:
What Does Digital Imaging Do To Help With Plastic Surgery?
Digital imaging allows Dr. Gross to take careful measurements of your nose and facial profile angles to determine what your face will look like after the procedure is done. It is also an excellent tool for patient education.
Once you are satisfied with your intended outcome and your surgery is underway, Dr. Gross displays these customized images on a large-screen TV in the operating room. This ensures that he follows the very detailed and tailor-made surgical plan to give you the results that you want. As Dr. Gross puts it: 'The computer images provide our patients a peace of mind and a roadmap to success!"
How Does Digital Imaging for Plastic Surgery Work?
By using these high-tech visual aids before, during, and after your procedure, you and Dr. Gross can make the best decisions together in order to meet your goals.
Computer imaging has been an indispensable part of the Primera plastic surgery practice for 25+ years and has led to many happy patients.
See the before and after pictures below for images of our satisfied patients, or take a look at procedure-specific photos in our gallery.
Digital Imaging Photo Gallery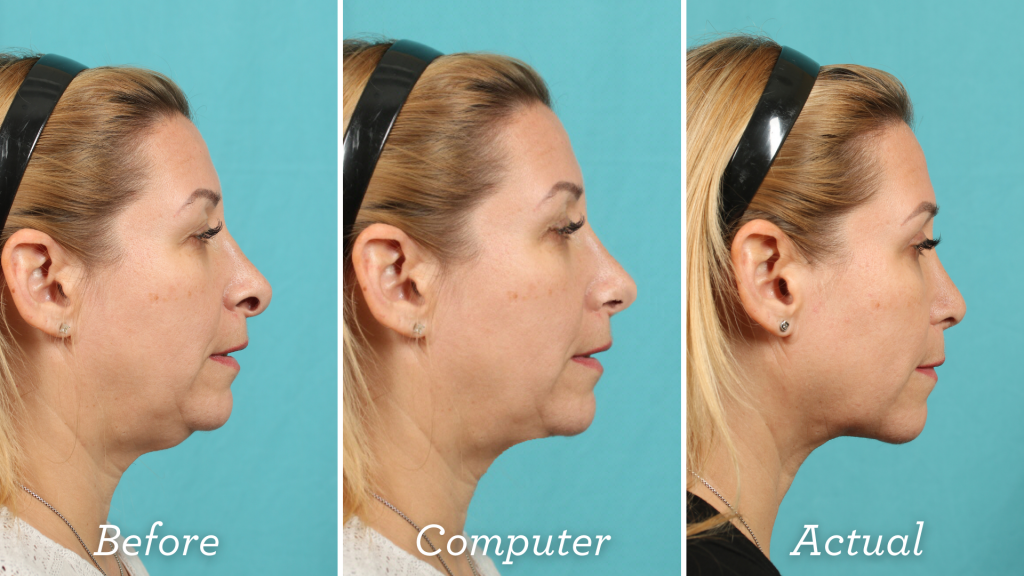 What Is the Benefit of Digital Imaging for Plastic Surgery?
At Primera, we know that the details surrounding your surgery are important to you. By discussing the results you want during your initial consultation for facial cosmetic surgery, we can better prepare both you and Dr. Gross for a successful outcome.
Sometimes, our patients are uncertain how things may look once surgery is completed. Because their appearance is very important to them, and the face is the first thing people see when they meet, we want every patient's results to live up to their expectations–and that includes you! (We explain more about how digital imaging benefits rhinoplasty patients in a related blog post.)
Having surgery and not knowing what to expect is enough to make anyone lose sleep. Thankfully, in today's world of cutting-edge technology, top plastic surgeons like Dr. Gross have access to digital imaging software that can help you communicate exactly what you desire, well in advance of your cosmetic procedure.
How Can You Learn More About Digital Imaging for Your Plastic Surgery?
Still have questions? ​​To learn more about computer imaging from one of the top facial plastic surgeons in Orlando, FL, contact us today for more information, or call our office at (407) 392-9385.