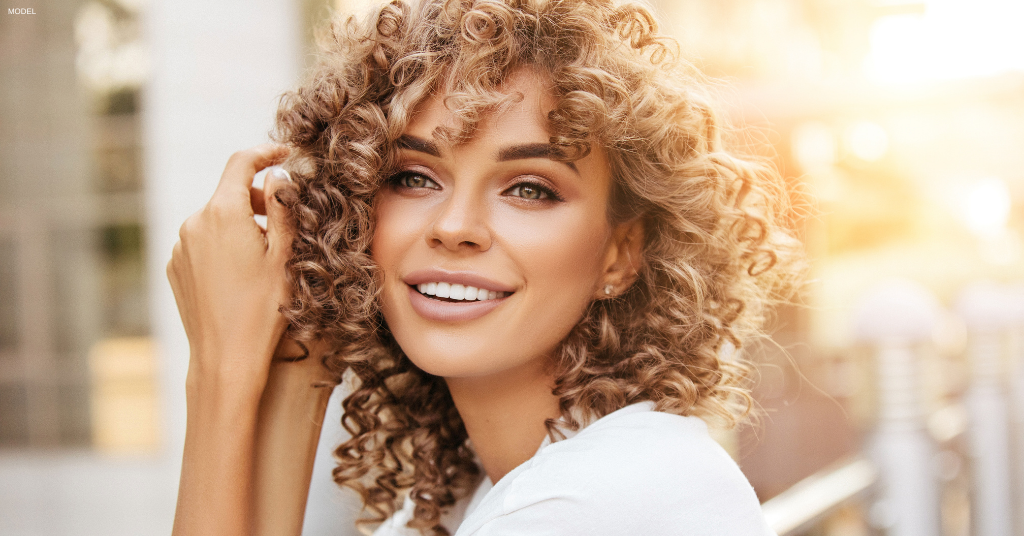 As you enter your late 30s, you may begin to see the signs of a common problem: loose, saggy skin. Facial aging often develops along the lower face and jawline, creating jowls, wrinkles, or even a double chin. Ultherapy® is the go-to skin tightening treatment for our Orlando patients because it can significantly delay the aging process. You no longer need to go under the knife to get a youthful glow—Ultherapy is here to help.
What is Ultherapy?
Ultherapy is a nonsurgical skin tightening treatment that tones and rejuvenates the face. It corrects several signs of aging, such as lax skin and wrinkles, around the face, brow, neck, and chest. By promoting new collagen production in your target areas, Ultherapy significantly lifts and firms your profile as shown in a 2019 study and the before and after photos below.
Can you combine Ultherapy with other treatments? 
This treatment is an excellent facelift alternative for those who wish to avoid traditional surgery. Ultherapy can also be used in combination with KYBELLA® to dissolve fat in key areas under the chin or in the jowls. 
Who can have Ultherapy? 
Ideal candidates for Ultherapy are ages 35 to 55 with mild to moderate laxity around the face and neck. The procedure can also supplement and refine past plastic surgery results, such as a facelift or brow lift. Men and women with more significant aging changes typically require a mini facelift or neck lift procedures. Is Ultherapy right for you? Check out our related blog post for more information.
How does Ultherapy work?
Ultherapy uses the power of ultrasound technology to penetrate deep below the skin. This energy stimulates collagen production by gently warming tissue layers, allowing your skin to lift and tighten naturally. 
During treatment, your practitioner holds a specialized handpiece against your skin for around 60 minutes. You may feel several short, quick bursts of heat and slight tingling. An oral sedative is given to help you feel more comfortable throughout the process.
Are there any risks or side effects of Ultherapy?
Ultherapy is a trusted, FDA-approved procedure that is safe and relatively painless. Ultrasound energy has also been used in medicine for over 50 years—including on expectant mothers—so it has a proven track record. However, you may experience slight swelling, tingling, or bruising immediately following treatment. These side effects are temporary and will fade away within 24 hours.
What can I expect after my Ultherapy treatment?
The results from your Ultherapy session will gradually develop over time. As more collagen is produced and your skin contracts, you will be able to see visible tightness and definition in your treatment areas. This process may take around 2 to 3 months, although results can continue to improve up to 6 months after the procedure. Results generally last for up to 3 years.
What do Ultherapy results look like?
If you struggle with loose, saggy skin, Ultherapy is here to help you—without the need for surgery. Browse our before-and-after gallery to see examples of real skin-tightening results from our own patients. 
If you would like to learn more about Ultherapy in the Orlando area, please request a consultation online. You can also contact our practice office by phone at (407) 333-3040.