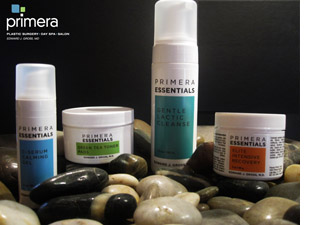 Primera Proudly Introduces. . .
 . . .Primera Pharmaceuticals.  Our NEW product lines feature four innovative home care items called Primera ESSENTIALS.  Dr. Edward J. Gross and Medical Aesthetician, Debbie Safra have been teaming with formulators to create products that are "Essential" to your healing after laser treatments, chemical peels, microdermabrasion and to help treat pigmentation.                           
Gentle Lactic Cleanse– This is a 100% soap-free cleanser that removes surface dirt without stripping or drying the skin.  Gentle Lactic cleanse foams when pumped and feels luxurious and refreshing for a deep clean that appeals to both men and women.
Green Tea Toner Pads– A stable topical solution of purified green tea (EGCG), compounded before dispensing, to reduce inflammation and offer antioxidant protection.   Use after cleansing once or twice daily and can be refrigerated for a refreshing pick me up. Good for Rosacea and redness reduction.
C- Serum Calming Gel– An encapsulated form of vitamin C clinically demonstrated to increase type I collagen, provide anti-oxidant activity and skin clarity. This anti-inflammatory formula is a non-acid and recommended for all skin types. Designed for use after laser treatments and chemical peels. Speeds healing.
Elite Intensive Recovery– Adding to our Elite family of moisturizers is a new recovery cream that is thick and creamy, yet fast-absorbing and non-greasy.  Even oily skin benefits since it helps regulate oil production. This 100% paraben, fragrance, and propylene glycol-free cream contains a combination of Niacinamide and barrier repair lipids to help restore the skin's barrier from within.