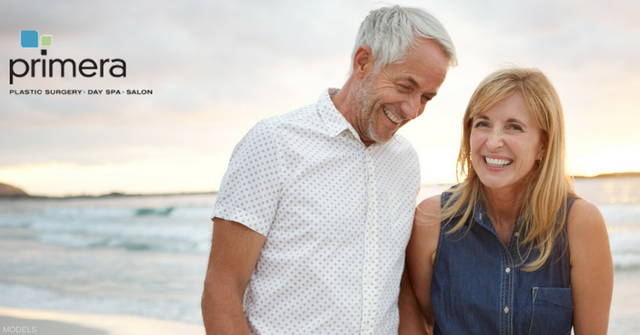 Dark circles, bags, and sagging lids are common signs of aging which can, unfortunately, present themselves even when a person is well rested. Though I perform eyelid surgery for my Orlando patients who want a significant, long-term solution, nonsurgical treatments can also produce great results without the risk or downtime associated with surgery.
Here are a few of your nonsurgical options for improving the look of tired-looking eyes.
Ultherapy® Treatments: Ultherapy is a noninvasive procedure that targets the foundation beneath the skin without damaging the surface. It stimulates your own collagen production for smoother, firmer skin around the eyes. It doesn't require needles or incisions, and the results can last for years. It can take a few months, and sometimes a series of treatments, to achieve optimal results.
SkinPen®: Microneedling with SkinPen can help restore a more youthful look to the skin around the eyes with little to no recovery time. SkinPen uses a cluster of adjustable length, disposable straight needles to gently penetrate the skin and cause micro-injuries. This stimulates your body's own healing response, triggering the production of new collagen for firmer skin.
BOTOX® Cosmetic: BOTOX can help patients look younger by erasing the frowning or scowling appearance that comes from forehead wrinkles. It can be used to create a subtle brow lift, opening up your eyes and making you look more awake and refreshed. It can also soften crow's feet. BOTOX lasts about 3 to 4 months, and regularly scheduled treatments can maintain your desired aesthetic indefinitely.
CO2 Laser Resurfacing: Laser skin resurfacing corrects signs of aging around the eyes, especially in the lower lids. It can help reduce dark pigmentation, tighten loose skin, and smooth fine lines. This option works well for mild to moderate sagging, drooping and crepey skin around the eyes.
Chemical Peel: Chemical peels work similarly to laser resurfacing in that they can improve skin tone and reduce the appearance of fine lines around the eyes. During the treatment, we apply a chemical solution onto the skin, which causes it to peel off and reveal a new and healthy layer. Peels improve the texture and quality of the skin treated. Many people combine them with fillers to achieve their desired results.
Dermal Filler: Fillers can dramatically improve the appearance of the eye area. Patients with under eye hollows and dark circles can benefit from fillers to restore volume and eliminate shadows in this area. We can even create a subtle brow lift with fillers. Here, you can view real patient results showing dermal fillers for eye rejuvenation.
These are just a few of the nonsurgical treatments that can help wake up your tired-looking eyes. Each of them is a great nonsurgical alternative to an eyelid lift. Visit our before-and-after gallery page to see the results from each of these treatments.