Primera Plastic Surgery
1035 Primera Boulevard
Lake Mary, FL 32746

Phone: (407) 333-3040
Fax: (407) 333-3496

Mon–Fri: 9 a.m.–5 p.m.
Sat: 9 a.m.–3 p.m. (Med Spa only)

Neck & Face Liposuction
A person's facial appearance changes with time and age. Fatty deposits become apparent not only on the buttocks, thighs, and abdomen, but also on the jowls and neck and under the chin. This accumulation occurs because of the gradual changes of aging and weight gain. The jowls and the area under the chin become full and rounded, for example, causing some people to lose their confidence. Liposuction, or liposculpture, is the surgical vacuuming of fat from beneath the surface of the skin with fine cannulas. Double board-certified facial plastic surgeon Dr. Edward Gross performs liposuction for Orlando men and women to reduce fullness in the neck and create a sharper, more youthful jawline.
Dr. Gross is a double board-certified facial plastic surgeon who can create a defined, youthful neck and jawline with liposuction. Request a consultation today, or call our office at (407) 333-3040.
Proven Techniques, Outstanding Results
Dr. Gross often uses liposuction to remove excess fat from the face and neck in order to:
Produce a more sculpted, angular, and youthful jawline
Create youthful definition in the face and neck
Reduce excessive fullness in the cheeks
Edward J. Gross, M.D.
Double Board-Certified Facial Plastic Surgeon
With 24 years in practice, Dr. Gross' quality of care and results have earned the confidence and referrals of doctors throughout the region. His emphasis on patient education helps the men and women he treats feel comfortable and supported during their treatment.
Meet Dr. Gross
Request My Consultation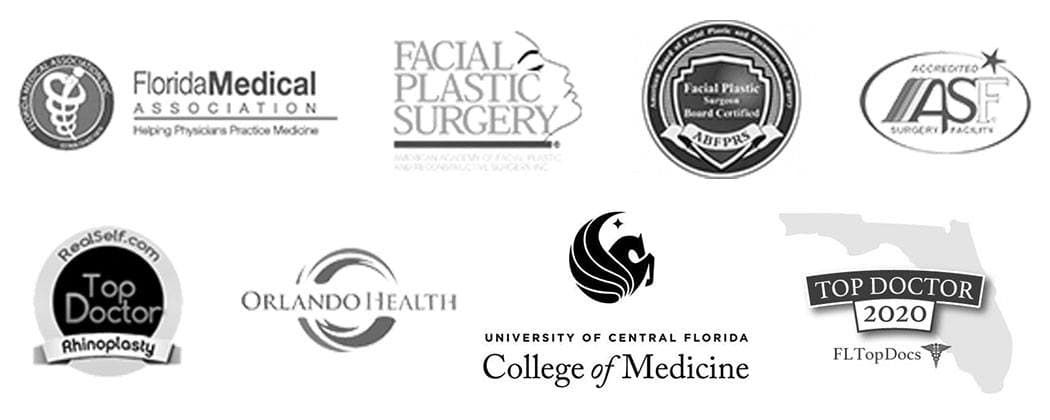 Neck & Face Liposuction With a Facial Plastic Surgery Specialist
Patients who are slightly overweight can benefit from liposuction. It is best to be at or near your normal weight when you have this procedure done. Good skin elasticity is also important because it lets the skin to shrink easily with the reduced contour. There is no absolute age limit for liposuction; however, younger skin tends to respond better due to its elasticity.
Moderate weight gain will not alter or stretch the skin back. However, excessive weight gain may blunt the nice neck contour achieved by liposuction.
"Our patients are often so motivated after successful liposuction procedures that they go on to lose more weight and then tend to keep it off. This greatly enhances overall results."
– Dr. Gross
Patients who have excess fat under their chins accompanied by taut skin in this area can benefit from liposuction alone. They may also be good candidates for KYBELLA® injections to reduce a double chin. However, if the skin on the neck is loose, hanging or crepey — even with the presence of excess fat — liposuction alone will not produce the desired result. Patients with loose skin usually require a tightening procedure such as a mini facelift, neck lift, or traditional facelift in addition to (or instead of) liposuction. In general, patients who benefit most from neck liposuction alone are younger than age 40. Most patients older than 40 require some surgical skin tightening.
Dr. Gross uses neck liposuction to remove fat from beneath the chin in order to eliminate a double chin or jowls. Neck liposuction will not necessarily improve dimpled or rippled skin. These cases often require neck lift contouring in conjunction with a liposuction procedure.
Excess fat in the central fat pad of the face can cause cheek fullness. In these cases, Dr. Gross performs Buccal fat pad extraction along with liposuction.
Before a procedure, Dr. Gross uses computer imaging to simulate the results of neck and face liposuction.

Computer Imaging
See Your Results Before Surgery
Our practice is among the few that use computer imaging to show potential results. With the help of this technology, Dr. Gross can reliably tailor a surgical treatment plan for the unique needs of each patient.
Learn More
Neck & Face Liposuction FAQ
How much does neck & face liposuction cost?
In the Orlando area, the cost for neck and face liposuction by Dr. Gross depends on whether it is performed along with other procedures, as well as a number of other factors. The cost is $3,950 to $4,750 – depending on areas (NOT including anesthesia or facility fees). Dr. Gross is proud to offer financing through CareCredit® for qualified patients.
What is neck & face liposuction recovery like?
Face and neck liposuction take place under general anesthesia or oral sedation. The surgery typically lasts about an hour. Patients can usually resume work after a week and strenuous activity after 2 to 4 weeks.
Compression garments and chin straps worn after surgery greatly reduce the chances of complications, which are rare. Bruising and swelling may last for 1 to 6 months or more.
What is included with the procedure?
The procedure improves shape by removing fat deposits with a tube and vacuum device. Common locations for liposuction include the chin, jawline, and neck.
"Our general rule of thumb is that patients are candidates for neck and jawline liposuction if they are not more than 50 pounds over ideal body weight. If they are, I recommend weight loss, dieting, and exercise first."
– Dr. Gross
What are the common side effects?
Temporary bruising, swelling, numbness, soreness, or a burning sensation.
What are my risks?
Asymmetry, dimpling of skin, pigmentation changes, skin injury, fluid retention, and infection.
How long will I enjoy my results?
Results are long-lasting with sensible diet and exercise.
Leading the Way in Patient Satisfaction
No matter where you prefer to do your research, you'll find plenty of 5-star reviews for Primera Plastic Surgery. Dr. Gross and his team strive for complete patient satisfaction, and they'll go above and beyond to ensure you're happy with every element of your experience.
Learn More
Take the Next Step
Dr. Gross is a double board-certified facial plastic surgeon who can create a defined, youthful neck and jawline with face and neck liposuction. To learn more, request a consultation today, or call (407) 333-3040.
Back to Top