Primera Plastic Surgery
1035 Primera Boulevard
Lake Mary, FL 32746

Phone: (407) 333-3040
Fax: (407) 333-3496

Mon–Fri: 9 a.m.–5 p.m.
Sat: 9 a.m.–3 p.m. (Med Spa only)

Skin Discoloration Treatment
Skin Discoloration Treatment
The pulsed dye laser (PDL) from Candela™ uses a concentrated beam of light that targets blood vessels in the skin that cause discoloration. The light converts into heat, destroying the blood vessel while leaving the surrounding skin undamaged. Dr. Edward J. Gross uses this advanced laser skin treatment on men and women from Winter Park, Orlando, Tampa, Melbourne, Daytona Beach, and other Florida cities.
Dr. Gross has extensive training, certification, and experience with the pulsed dye laser. Request a consultation today with him today, or call our office at (407) 333-3040.
Skin Discoloration Treatment

Before & After Photos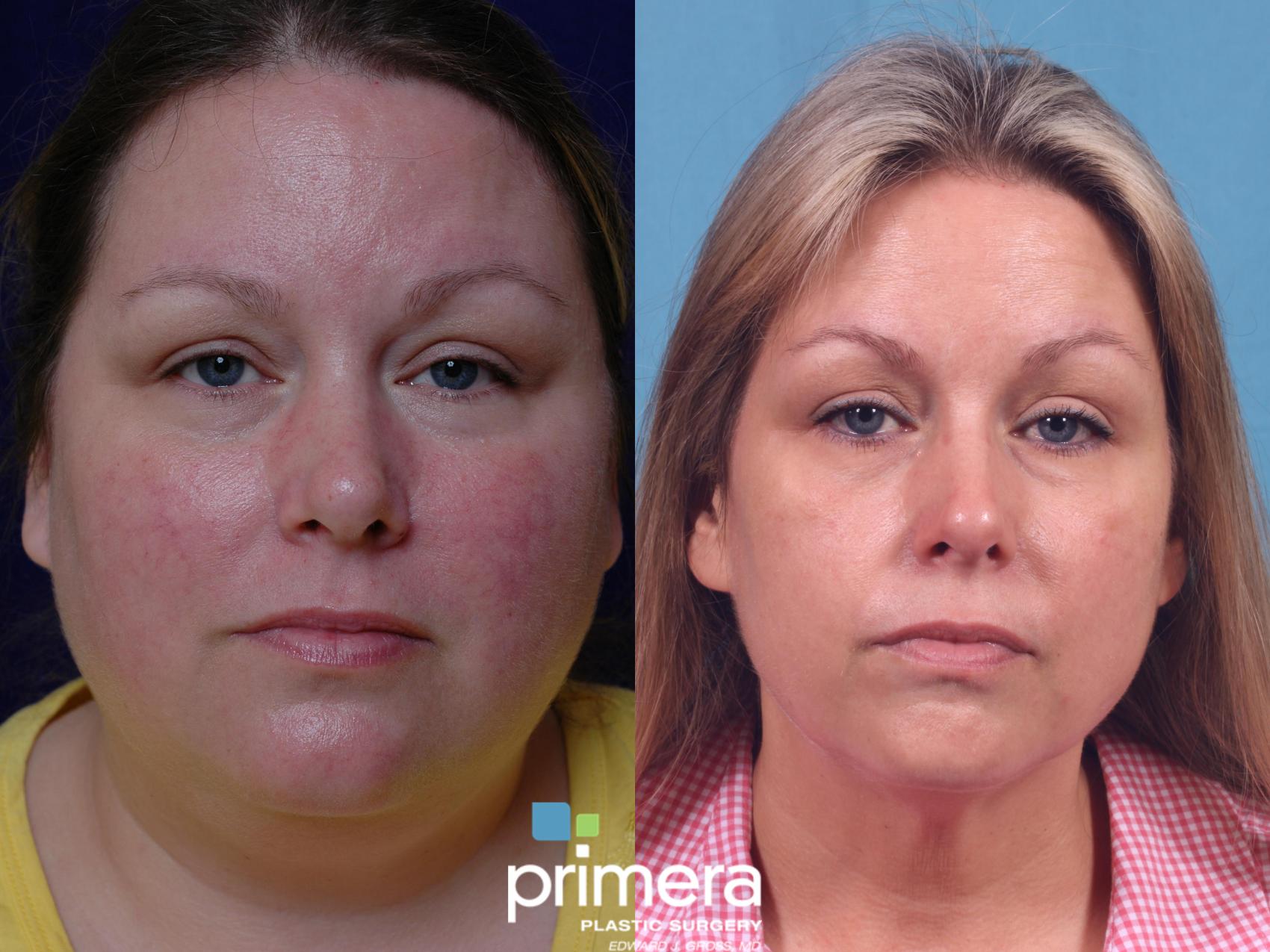 Before & After
Case #147
Case# 147. Pulse Dye Laser. This 30-year-old woman with light skin tone underwent pulsed dye laser skin treatments. After 3 lunch time treatments, her red areas (Rosacea) and face veins on the cheeks are gone. The Candela V-Beam Pulsed dye laser also helps treatment of Rosacea. She is very happy.Location: Orlando/ Winte...
Read More
Keep in mind that each patient is unique and your results may vary.
Proven Techniques, Outstanding Results
Dr. Gross uses this laser for the treatment of conditions such as:
Facial veins
Dilated veins on the nose and cheeks
Scars
Stretch marks
Acne
Rosacea
Wrinkles
Skin Discoloration Treatment With a Facial Plastic Surgery Specialist
The pulsed dye laser can do it all – from correcting red and brown skin discoloration to eliminating virtually all vascular and pigmented lesions. It features advanced micropulse technology, multiple handpieces for treating various spot sizes, and a patented Dynamic Cooling Device™ system, which reduces downtime by minimizing discomfort, purpura, and bruising.
This laser can be used for all ages and most skin types. You will feel a slight warmth during your procedure, but your skin will be cooled with a coolant spray.

A Smooth Recovery
The PDL laser requires no anesthesia or injections. Treatments can be as short as a few minutes, depending on the size of the treated area. Most patients can return to work the same day.
Side effects are generally minimal and include temporary bruising and pigmentary changes. Dr. Gross recommends wearing sunblock consistently for 1 month before treatment, as tanned skin blocks the laser light and results in a higher chance of side effects. Scarring is extremely rare with this laser.
Patients should avoid sun exposure for 2 weeks following their treatment. Moisturizer applied 2 to 3 times per day will protect the skin and speed healing. Sun protection will help minimize the chance of pigmentary changes. Patients can wear makeup starting on day 2. If any crust forms, patients should not pick or try to remove it. Any bruising should fade relatively quickly over a 3- to 10-day period.
"This laser combines 'cool touch technology' with yellow light, which is very safe and prevents damage to surrounding tissue."
– Dr. Gross