Primera Plastic Surgery
1035 Primera Boulevard
Lake Mary, FL 32746

Phone: (407) 333-3040
Fax: (407) 333-3496

Mon–Fri: 9 a.m.–5 p.m.
Sat: 9 a.m.–3 p.m. (Med Spa only)

Cheryl C.'s Story*
When Cheryl learned that her oldest son was getting married, she wanted to look her best for the wedding. So the 53-year-old mom decided to have facial plastic surgery in Orlando. A mini-facelift, she thought, would tighten her jowls and give her chin a more contoured appearance. Figuring it might be a good idea to take care of everything at once, Cheryl decided to get a nose job at the same time. Living near Orlando, she found Dr. Gross. By the time of the wedding, says Cheryl, "I felt beautiful and fresh and vibrant. I was ready for those 8×10 glossies!"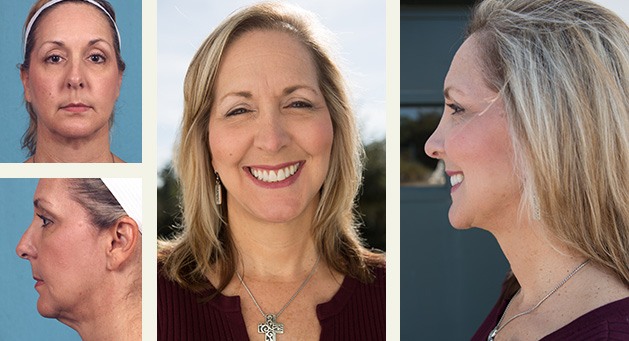 *Keep in mind that each patient is unique; your results may vary.
How did you choose Dr. Gross?

Because I've lived in the Orlando area for most of my life, I've been aware of many plastic surgeons in the area. And when it came to something so personal and important, the way I was going to look for the rest of my life, I just - I had a feeling about Dr. Gross and felt most comfortable with him and his expertise and the fact that he really focuses on "we do faces" - that's his byline. And I just felt really comfortable with that and knowing that he really focuses on facial plastic surgery, and that's when I decided, that's who I needed to go see and never felt like I didn't make the right choice. One of my best friends went to Dr. Gross a few years ago and decided to have her eyes done, and she just had such a wonderful experience, and the outcome after surgery was just a beautiful result. And because of that, that's where I knew that I needed to be.

Did you have any scarring from your procedures?

So you're probably curious about what kind of a scarring you're going to have after the surgery. Dr. Gross needed to make a small incision right here under my chin, which, if you can see right here, it's very, very tiny and with a little bit of concealer you don't even realize it's there. I've never had anybody say to me, "What is that under your chin?" It's just not a factor. The incisions that he made on my eyelids - I don't know if you can even tell - but he made a very fine incision right across here, and within a few weeks that was barely noticeable and with a little bit of eye makeup you would never know that anything was done there. Now, for the mini lift also he had to make an incision in front of the ear and behind the ear, and those have healed up nicely and they're just not obvious, that's not a factor. So I'd like to show you my profile, and that's what I'm the most proud of because of my nose. Beforehand, I had a little bit of a bump in my nose and it was much more bulbous here on the tip. I just feel like I have a perfect nose now.

What happens during the initial consultation?

When I decided that I wanted to do something about the way my face looked, I called Dr. Gross' office, and they were wonderful. They got me in within a week's time. They took several pictures of me - a frontal view profile and several other shots - and then I went in and sat down with Dr. Gross. That was the first time that I had ever met him. He was just wonderful to get to know, very professional, but also very personable. So I sat down with Dr. Gross and he brought my picture up on a large screen in the room, and after we talked about what kind of results I was looking for, he was able to use a computer program and show me what kind of result he could give me through plastic surgery. He used his little cursor and brought up my neck and my jaw area, and just it was phenomenal, the change that I could see right there happen before my eyes. And then we ventured on to talk about the fact that my eyes were kind of starting to sag a little bit, and I mean, just blew me away because when he used the cursor to do the lifting on the picture, he actually lifted the corner of my eye and I could see my eye makeup. I was blown away - it didn't even dawn on me how much my eyes were sagging until he showed me that and I was told. Then I said, "Dr. Gross, OK, there's one more thing I want to talk about. I'm not happy with the look of my nose," and he was like, "Oh, well you're in the right place, we can definitely take care of that." And he turned to the profile shot, and when he showed me what he could do to change the shape and look of my nose, I just wanted to kiss him. It was amazing, and I knew right then that he was the doctor for me and that I had to get it set up right then. So I did not leave the office without making an appointment. I called my husband and I said, honey if you ever do anything else for me this is the one thing that I really want - I want to do this for myself and I just - and I'm so excited.